A recent survey by Computer Weekly with over 1000 APAC IT professionals found that 2017 will be another good year for CIOs in the ASEAN region. 26% anticipate an increase of more than 10% for their IT budgets and a further 27% predicted a small increase.
What stood out to me were the initiatives that these CIOs will be focusing on in 2017. Deriving value from data is key: 44% mentioned an investment in the big data and business analytics area, 33% spoke about IT automation and rounding up the top 3 was the Internet of Things at 31%.
Similar to what we heard from our enterprise participants in 2016, the survey found that the pragmatic approach to IoT has accelerated IoT technology towards widespread enterprise adoption. When asked about their planned use of IoT platforms, more than a third mentioned a cloud-based or analytic platform, followed by platforms for hardware and software in a a thing or endpoint device and platforms that simplify mobile connections.
Is IoT in Southeast Asia finally crossing the chasm in the innovation adoption curve?
Geoffrey Moore introduced the concept of tracking the business uptake of innovative high tech products in his book "Crossing the Chasm" in 1991. In it he expanded on the diffusion of innovations theory by Everett Rogers and argues that there is a gap between the early adopters of the product (the technology evangelists) and the early majority (the pragmatists).
Crossing the chasm refers to the moment when true business value becomes apparent and the technology switches from being purchased for its perceived technology possibilities to buyers seeking the product for its recognized commercial value.
The customers are no longer limited to the early adopters, who deploy technology in hope of gaining a business advantage. By delivering a recognized business advantage, the disruptive technology creates enough momentum to reach the next stage of the adoption curve.
It is this pragmatic approach that drives our discussion of IoT in Southeast Asia. Our partners like HPE completed a research that examines the reality of IoT via real-world case studies and examples. By presenting these results from real IoT initiatives and identifying what went well and what didn't, they were able to distill some lessons on how to avoid the pitfalls and do IoT right.
Similarly, by getting speakers like Vinamilk, LTA and Iskandar Regional Development Authority to share their insights at our upcoming Singapore conference, we hope our regional participants can use this as a springboard to launch their own IoT initiatives.
Can IoT in Southeast Asia move towards mass adoption? A participant at our recent Vietnam event updated us last week that they have set up their IoT department to tap into the burgeoning IoT opportunities in Vietnam. We are heartened by such feedback and look forward to accelerating the adoption curve in the years to come.
Lady Gaga recently performed a 15-minute death-defying SuperBowl halftime show that skyrocketed her music sales by 1000%. To most people, that's impressive. But to some (like me), what's equally impressive is the flock of "stars" which are drones with LED lights attached forming an impressive backdrop of moving stars and an American flag, as Gaga sings the patriotic opening tune "God Bless America".
It was only moments after the performance that it was revealed that the drones spectacular was indeed pre-filmed before the actual halftime show, due to restrictions over the use of Unmanned Ariel Vehicles, or UAVs.
The use of drones has long sparked interests in various stakeholders. They have been used in warfare, filmmaking, delivery and even firefighting. Interest in the consumer usage of drones has skyrocketed over the past few years, and commercially drones are being explored for many industrial, agricultural and – most recently – entertainment purposes.
In Southeast Asia, drones have been moving away from military technologies to more industry verticals and applications. Asia is seeing a "proliferation of companies coming out thinking creatively and informatively about how drone technology can be developed," according to a spokesman for SZ DJI Technology Co., world's top consumer drone maker by revenue.
One industry application that drones can be very useful for in Southeast Asia is agriculture. Making up a big part of the economy in Southeast Asia, agriculture however is still mostly done manually due to the lack of capital investments into new technologies done. Farming is still mostly done in small family scale, and lack of awareness of new technologies further distance farmers from gaining the capability to transform traditional farming.
Drones can produce precise 3D maps for early soil analysis, plant seeds automatically reducing the amount of time and manpower needed, spraying more efficiently to reduce amount of chemicals penetrating into groundwater, monitor crops over a large area at real time, provide weather-dependent irrigation and assess crop health remotely. All of these possibilities can be achieved from the comfort of a control centre and may even be done automatically, for example in the case of Cau Dat Farm in Da Lat, Vietnam, which has developed various IoT technologies for their own farms in the area to produce fresh, healthy and farm-to-table agricultural produce.
The usage of drones is still very contentious in the region. Many countries in the region are still working on imposing certain restrictions and regulations on how to use drones commercially and personally. Nevertheless, just like any other new technologies, under proper regulations and management, drones have the potential to amaze – on and off stage.
Let me know your thoughts. If you have any inquiry on next-generation technologies and their use in Southeast Asia, reach out at dinh@industry-platform.com!
It's 2017 and Internet of Things (IoT) continues to be a buzz; appearing frequently in almost every news article regarding technology trends, digital transformation and the next "industrial revolution". However, behind the seemingly robust industry boom, rates of IoT adoption across ASEAN seems to be at a more conservative level.
Enterprises and organisations are cautious of adopting IoT for various reasons, and it is important for solution providers to understand these gaps in order to address enterprises' challenges and bring IoT to a wider reach.
Security
Arguably the second-most popular buzzword, security issues have been the top concerns of any digital, connected projects out there. 2016 was a "year of hack" around the world, from the (alleged) hacking of the US elections, US $81 million stolen from Bangladesh Bank, and hacking of airports and banks in Vietnam. All these issues raise the concern of the security of enterprises putting up sensitive information about their business in the cloud, where IoT devices without basic security functions can be hacked within minutes.
Ensuring cyber security is crucial for businesses when they decide whether or not to migrate into the cloud and rely on technologies for operations and sensitive information.
Cost
Cost is another big concern for enterprise IoT adoption, especially in the Small and Medium Enterprises (SMEs) in ASEAN. Many of the IoT product offerings currently pose a challenge for SMEs to adopt, especially when the benefits are usually seen in the long run rather than short-term. This is especially apparent in emerging economies like Myanmar, where despite the high potential for enterprise ICT/IoT adoption, the high cost of digital products still poses a challenge to the local companies, prompting them to either seek foreign investments, collaborate, or find localised products that are more affordable – prompting local system integrators and distributors to be active in helping to grow the local markets.
This also prompts another important issue of having a strategic planning when it comes to digitisation and using IoT, in order to cut upfront costs while still benefiting from the new technologies.
Sustainable investments & developments
As the IoT buzz continues to ride the waves of publicity, especially from big names like Hewlett Packard Enterprise, IBM, Oracle, Microsoft and Google, enterprises should avoid jumping on the bandwagon without understanding the actual benefits and what IoT can bring to the table. A Bain & Company survey found that 59% of global companies believe they lack the capabilities to generate meaningful business insights from data, while another survey had 85% of respondents saying that they will require substantial investments to update their existing data platform – which can be costly and time-consuming.
Understanding the challenges that the businesses and enterprises face will be crucial for solution providers to offer not only products for the sake of having products, but also be able to offer their clients advice on strategies and plans of how to apply IoT successfully and strategically – depending on each company's needs and requirements.
Businesses in ASEAN comprise many young, robust and innovative enterprises hoping to use technologies to differentiate, expand and produce with high efficiency and productivity. Addressing the pain points and challenges of technologies will allow solution providers and businesses to have better understanding of each other, and help the ASEAN IoT market to reach new heights.
What is the top challenge that your company is facing with regards to technologies/IoT adoption?
If you are interested in learning more about ASEAN"s enterprise IoT markets and connect with businesses across the region about your solutions, drop me a note at dinh@industry-platform.com.
With ASEAN touted to be at the frontline of the Internet of Things (IoT) soon, we at Asia IoT Business Platform continue to seek more learning points about IoT and how the region can leverage it to boost their economic competitiveness. It remains at the top of our minds that ASEAN is a market that is still developing; it is therefore important to look beyond the region for pointers that can be translated into actions. It is, after all, our mission to drive the adoption of IoT technologies in ASEAN.
We had the pleasure of meeting Deon Newman, CMO and VP Marketing at IBM Watson Internet of Things, at the IBM office in Singapore. While it was a short session, his insights on the IoT landscape and the technology itself brought a new and fresh perspective on what we have already known for quite some time. Bringing it back to basics and speaking on the purpose of IoT, Deon shared his excitement on the things that IoT technologies have already delivered to businesses and consumers alike, as well as the promising future of a connected world.
Deon began by recognising that companies are rapidly moving towards adopting IoT technologies and that many are already on the path of digital transformation. This is largely driven by plans for growth and expansion, as well as the need to return to the their bottom-line.
"Essentially, it is about running things more efficiently, delivering higher levels of service, and driving better brand and customer experience," he said.
What excites Deon the most though, are the conveniences that IoT technologies are bringing and how inanimate devices and objects are being 'enchanted'. In many ways, IoT has not only connected remote devices and automated various processes, but these devices and items are also being given a life of their own. He brought up an example of a minibus, 3D printed by a small company in Arizona. Olli is an autonomous-driving minibus which can hit the road without requiring any driver. However, people are cautious of that very fact.
"People don't like being in a vehicle that has no steering wheels or brakes. It is pretty unnerving," Deon said.
For that reason, IBM Watson Speech to Text capability was integrated into the bus to give it a voice. Beyond automation, the bus can now communicate with passengers and actively seek to fulfil their needs in almost a human-level response. "It is really bringing a whole new level of brand expression and brand life, and I love that!" he said.
Olli is just one of the examples; Deon also gave instances on how video and audio recognition have also altered processes and operations across different industries such as fleet management, to prevent breakages, leakages, and other costly incidents.
Moving away from the wonders of IoT, we spoke with him about the IoT landscape in emerging regions such as ASEAN and the opportunities that lie in its different markets such as Indonesia, Malaysia, Thailand, and Philippines. Having worked to drive IoT adoption in the region in the past three years, not only have we found many opportunities, but we found market-specific challenges as well. Deon, however, is optimistic about the future of ASEAN in terms of the opportunities for IoT. Acknowledging the state of the markets being in the developing stages, he also highlighted that such emerging markets naturally have strong and dominant industries that can benefit from IoT.
"There is a heavier orientation towards industries and sectors such as agriculture and manufacturing because certainly, they are more dominant in these markets," he said.
IoT devices can collect fundamental information about the climate, the ground, and other data to realise more accurate systems of management. The deployment of IoT technologies basically enables greater efficiency and productivity across verticals.
Apart from using IoT and data for monitoring, Deon also highlighted smart buildings and smart cities as areas that have great opportunities for IoT in markets across Southeast Asia.
In many ways, smart devices can increase safety and security and improve the comfort of a building's occupants. Pragmatically, IoT technology can determine the extent of damage that buildings suffer after unforeseen events and help prevent structural failures. More importantly, however, Deon underscored how smart devices can help reduce energy consumption to drive energy efficiency and meet sustainability goals. This is especially critical after the signing of the Paris Agreement by nations all over the world. "Statistically, 43% of energy consumed in the world is by buildings and this is an area in which IoT technologies can be leveraged to make things run more efficiently to ensure sustainability in the long term," he added.
Smart city is by far the most promising for IoT technologies, especially in ASEAN. Due to high population density in many cities in the emerging markets, urban issues such as traffic gridlock, pollution, and flooding are rampant. However, these problems can be alleviated by deploying IoT technologies to tackle different elements within a city.
Several cities in ASEAN are already exploring the use of IoT technologies to solve urban issues, and one of them is the Vietnamese seaport City of Da Nang. The city launched smarter water and transportation initiatives to improve the quality of life for citizens. Applying advanced smart technologies, the Da Nang government is able to address the significant water and transportation issues that are impacting city life. The solutions deployed by city government provide a summary of events and incidents through maps, dashboards, and alerts, allowing city personnel to track trends, forecast demands and better manage the city's infrastructure and assets. For instance, Da Nang's Smarter Water initiative saw the Da Nang Water Company (DAWACO) implementing a program of expansion and modernization at its treatment facility for real-time analysis and monitoring of the city's water supply.
Da Nang is also investing in its public transit network and expanding its new Bus Rapid Transit system to combat traffic congestion, on top of using advanced monitoring technologies to oversee traffic and to control the city's traffic light system through a dashboard.
City leaders across ASEAN are taking a strategic approach to building their own smart cities by starting with practical and focused areas such as water and transportation issues, as in the case of Da Nang. The city now has a long-term plan to become an environmentally and economically sustainable city and its leaders are planning to apply technology to transform other areas such as public safety, flood management, and food safety.
Despite the apparent opportunities and the great potential in different sectors across the region, it is a known fact that IoT is a complex system; industry analysts cited complexity or 'difficulty of integration' as one of the top challenges of IoT, together with security (or the lack thereof). This has also manifested in our work across ASEAN where many end-user enterprises are worried about the difficulty of integrating IoT technology into their current systems and operations.
It is therefore, of paramount importance for IoT solutions providers to create end-to-end solutions to minimize the difficulty of deploying IoT technology. In providing a one-stop solution, solutions providers should also not neglect the criticality of consultation and ongoing support for enterprises looking adopt IoT.
Simplifying the process of integrating IoT technologies for end-users does not only highlight the delivery of better service and customer experience that Deon spoke about earlier; the aim of this is also to establish a good foundation that can catalyze the general rate of adoption and deployment of IoT technologies especially in emerging markets in ASEAN.
Beyond the service front, Deon emphasizes the importance of a network infrastructure as a critical foundation in supporting any IoT implementation in the region. Bringing it back to the very basics once again, he concluded with an opinion on how to drive IoT growth and developments in Southeast Asia.
"It is really a question of infrastructure maturity and policies," he said. "It is a necessary stamp for the future of a connected world."
When cities consider new ways of delivering services, support from citizens is essential for success. The best policies would have difficulty being implemented as uninformed and disengaged citizens are not able to support, and may even actively oppose them. For citizens to get involved early in the design of smart city projects, public education and access to a wide variety of open data and planning information might be key.
At the 7th edition of Asia IoT Business Platform, we learned that the City of Yokohama embarked on a Smart City Project, setting itself an ambitious target of CO2 reduction of 30% by 2025.  As part of the project various ICT and infrastructure components were deployed, however it was believed that engaging citizens to participate in the project and make lifestyle changes was equally important.
For example, the Yokohama Eco School project (YES) was developed to increase citizen participation, citizens attended lectures, events and workshops to understand climate change. In 2012, approximately 35,000 participants attended one of the 415 lectures  that were held . The result was an increase in the number of Energy Management Systems being installed in homes. In 2014, 4000 households participated in a demonstration project showing the high levels of citizen participation making the Yokohama Smart City Project one of Japan's largest energy saving projects.
KT Corporation, the largest telecommunications service in Korea, have similar views where it is believed that most smart city projects are hardware infrastructure-oriented, citizens are neglected and are not aware of new, "smart" services being introduced.  This increases the risk in the implementation of smart city projects.
KT suggested some strategies to overcome these challenges and they include;
People-Public-Private Partnership – Engaging citizens successfully to be involved in planning and decision making processes to identify and develop citizen-centric smart services and improve local living conditions
Facilitate Big and Open data – Big data will be key enabler for a smart city. Utilizing crowd sourced and open data can be used innovatively to deliver citizen-centric services.
Utilizing a Smart city Platform – Smart Services that were built in silos can be integrated into a single platform,  improving operational efficiency.
It is expected that the strategies will greatly reduce risks involved in smart city projects and contribute to better smart city services being provided.
Join the discussions at the 10th edition of Asia IoT Business Platform this 18-19 August in Kuala Lumpur as KT Corporation shares insights on Korea's Smart City Strategy.
By: Ernest
SOUTHEAST ASIA E-COMMERCE MARKET
Southeast Asia's market has a huge potential because of its size and growth trajectory. With its large population of over 600 million, 60% of whom are below 35 years old, and fast-growing internet and smartphone usage, its e-commerce market is expected to worth USD 21.8 billion, thus presents many business opportunities.
Despite the rise of e-commerce, physical stores are still preferred over online shopping. The main reasons are the shipping fees, the customers' preference to have the items immediately, and that they cannot try the items on before buying online.
HOW CAN BODY SCANNING TECH HELP RETAILERS?
Usually, up to half of the items would be returned to the sellers because of the size being an annoyance to both customers and retailers. Returning items can cost the retailers millions of dollars in extra shipping and warehouse fees.
One solution to this problem is 3D body scanning, which can take precise body measurements such as waist, hips and thighs circumferences, weight, height, and create a visual avatar for the customer to match the size and even try on clothes virtually. He/she can then use the avatar to find a perfect fit and shop on any of the online retail sites that partner with the 3D scanning company.
This innovation can thus help customers know how the clothes would look on them, whether they are in the physical stores or at home, shop more efficiently without having to queue, and to get the right sizes when ordering online.
This solution is offered by several companies like Styku, which creates 3D avatars using the sensors developed by Microsoft for its Kinect platform. Since there are more than 20 million Kinects sold today, it is a great way for people to do their own 3D scanning at home. Virtusize, another company, affirms that they would reduce fit-related returns byup to 50% using its virtual fitting solution.
This technology is already used by several retailers, such as Adidas with its "Next Generation Fashion Store" concept, for which they won the CeBIT Innovation Award 2013. Nick Robertson, the co-founder of ASOS (which partnered with Virtusize)affirmed that a 1% drop in returns can translate into $16 million added to the company's bottom line.
BEYOND THE APPAREL INDUSTRY
Besides being used for size-fitting or made-to-measure, body scanning technology can be used by airlines and automobiles to develop optimized seats, by health clubs to leverage body measurements, calculate body fat percentage to suggest suitable health and fitness solutions. Most importantly, it can be used in medical weight loss to tackle obesity, which is associated with increased risks of cardiovascular diseases, diabetes, cancer, etc. Surgeons and weight-loss professionals will be able to use this solution to track progress using precise and accurate measurements.
3D body scanning technology lowers costs, increases efficiency, and has much potential to help improve the future growth of not only the clothing industry, but also the healthcare industry, among future yet-to-be-discovered applications.
If you're interested in IoT/M2M developments in Southeast Asia, do drop us a note with your thoughts. We are currently in the planning stages of our 2016 events to be held in Indonesia (15 – 16 Aug 2016) & Malaysia (18 – 19 Aug 2016). Visit www.iotbusiness-platform.com for more information.
By: Allisson
KPN press release on 30 June 2016
As from today the KPN LoRa network is available throughout the Netherlands. This makes the Netherlands the first country in the world to have a nationwide LoRa network for Internet of Things (IoT) applications. Over the past eight months a lot of hard work has gone into the rollout of the network, so it is now available outdoors throughout the Netherlands. KPN's LoRa went live at the beginning of November 2015 in Rotterdam and The Hague. Because of substantial customer interest the rollout of the network was speeded up at the beginning of the year.
The existence of the easily accessible LoRa network makes it simple to develop smart applications and to optimize processes and services. KPN has already contracted 1.5 million 'devices' that will be connected to the LoRa network. This number is expected to grow rapidly now that the network is available in the whole of the Netherlands. In the months ahead KPN will further optimize the LoRa network by condensing the network; the much-requested localization functionality will become available too.
"Last year we identified an increasing demand for low-power network technology for Internet of Things applications. We are responding to this by choosing LoRa, so millions of devices can be connected to the internet in a cost-effective manner," says Joost Farwerck, Chief Operations Officer and member of the Board of Management of KPN. "In less than a year KPN has implemented a network that allows us to satisfy this market demand."
The first Internet of Things applications are already connected to the network and numerous proofs of concept are being tested. For example, at Schiphol Airport LoRa is being tested in logistical processes such as baggage handling and for facility services. An experiment is being carried out at Utrecht Central station that allows LoRa to monitor rail switches, and depth sounders at the port of Rotterdam have been fitted with devices to connect them to the IoT network. KPN expects LoRa applications for consumers to become more widely available in the course of this year.
*End of press release*
Remco Hekker , Managing Director IoT Operations with KPN will be sharing KPN's experience with LoRa during the 10th edition of Asia IoT Business Platform in Kuala Lumpur this 18-19 August which is endorsed by Malaysia's Ministry of Science, Technology & Innovation (MOSTI).
In 2012 Remco was amongst the first in KPN to explore the possibilities of Lora for KPN and this led to the introduction of KPN's Lora Network. Recently Remco became responsible for all KPN New Business IoT Operations including Smarthome, M2M and Lora.
Malaysia recently joined the LoRa alliance to promote national IoT adoption through the LoRa WAN connectivity protocol. This was in line with the government's initiative towards promoting new industries including the IoT industry and making Malaysia a regional hub for IoT.
For more information on Asia IoT Business Platform, email zaf@industry-platform.com
By: Zaf
The Golden Tweet
Do you know that the runner-up for Twitter's 2014 Golden Tweet came from Indonesia?
Twitter recognizes the tweet with most retweets as the Golden Tweet. In 2014, the Golden Tweet went to famed American celebrity, Ellen DeGeneres for her legendary 'selfie' tweet which featured other celebrities present at the star-studded Oscars. What caught our attention though, was the runner-up for the Golden Tweet. Coming in second, a politically-charged tweet by an Indonesian– in-lieu with Indonesia's presidential election in 2014–took the Twitterscape by storm. That particular tweet garnered more than a million retweets and a whopping 30 000 favourites.
The Twitter-user was nowhere near the status of Ellen DeGeneres as a public figure or in terms of followers. Yet, it managed to give DeGeneres a run for her money.
Indonesia's Social Media Prowess
While this might come as a shock to many, we have no doubts about it. Despite being in Southeast Asia and APAC, which is often assumed to be less developed than many other regions in the world in many aspects, Indonesia is undoubtedly a social media-wired nation. Apart from managing to send a tweet propelling up to be a Golden Tweet runner-up, Indonesia's capital city, Jakarta, was touted as the world's most active city on Twitter. With 254.4 million tweets in 2014, the city contributed 2.4% of the world's total tweets. The city also came in fourth in the world for Facebook activeness.
This makes Indonesia not only a social media giant, but also one of the most connected nations in the world. The rapid adoption of new technologies with the presence of a dynamic, young, and digital-minded population and workforce, on top of a consumer base of 170 million people, make Indonesia a nation with increasingly sophisticated expectations. This is evident from the emergence of Cloud Computing as a major element in Indonesia IT policies; a market that is set to reach more than $120 million b 2017. This is on top of the booming e-commerce (forecasted to hit $US18 billion in 2015), e-logistics, and Finance IT sectors.
Jakarta Smart City and the Internet of Things (IoT)
There is apparent effort in Indonesia to improve its infrastructure to meet the exigencies of a modern and tech-savvy social and economic landscape. Coupling regulatory mandates and burgeoning investments from regional and global tech enterprises, Indonesia's efforts and progress in developing the country to be a 'smarter' nation will definitely be catalyzed.
This can be seen in the development of Jakarta Smart City, where IoT is being implemented to help improve public services and better utilize resources. Here are some of the applications that will be rolled out in 2016.
Jakarta One Card
Jakarta One Card is a "smart card " that which is being created in collaboration with the city-owned lender Bank DKI. The card would function as an electronic ID card (e-KTP), a payment system for public transportation, shopping and Electronic Road Pricing (ERP) tolls, and as a Social Security Management Agency (BPJS) health insurance card. It is targeted that by 2019 , all citizens in Jakarta will have the Jakarta One Card.
Using the data obtained from the smart cards, the Jakarta Provincial Government can analyze the movement of people across the city, providing insights on traffic engineering and transportation.
City Surveillance System
To improve traffic and public safety in advance to welcoming the 2018 Asian Games in Jakarta, a monitoring system with over 6000 CCTVs have been installed throughout the city to monitor traffic and crowds.
 Dump Truck Tracker
Garbage trucks owned by the Jakarta Provincial Government do not adhere to a predetermined route, as such a challenge faced is that the truck drivers utilize the trucks for personal use outside of their primary tasks. The solution undertaken to resolve the problem is to install GPS sensors on the government owned trucks, so that their positions can be monitored on a 24hour basis. With additional data analytics, the management of trucks can be made to work in a more efficient manner.
Heavy Equipment Tracker
In addition to garbage trucks , heavy equipment (Construction vehicles,etc) owned by Jakarta Provincial Government will also be installed with special sensors . In addition to knowing their location , the sensor will also be used to monitor wear and tear of the equipment and will flag out when maintenance and replacement of parts is required.
Smart Street Lighting System
In order to reduce the high electric consumption , the current street lighting will be replaced with "Smart" lamps . These lights can be controlled remotely and can provide notification when it should be replaced . 90,000 lamps are expected to be replaced in 2016.
Join Setiaji, Head of Technical Implementation Unit ( UPT ), Jakarta Smart City as he shares his insights at the 9th edition of Asia IoT Business Platform, which will take place this 15-16 of August in Jakarta.
By: Ernest
I was in Phuket for the past few days. Being a complete stranger to the island with a language barrier, what helped me get around Phuket was this application called Grab. Grab uses an IoT revolutionised fleet to operate their on-demand services. This has made it possible for people to simply tap their smart phone and have a cab arrive at their location in the minimum possible time.
So, how does this work? Simply in 3 steps. Firstly, you choose where you want to be picked up, dropped off and the type of pick up you want. Then, Grab will source a driver for you in the vicinity and you get to see where the drivers are located in real-time. Lastly, after a driver has accepted the booking, both parties will get each other's' contact details: Car plate number and mobile phone number and, you also get to track the route as well as the time taken which the driver takes to reach your pick up point.
The above sums up an example of how Internet of Things (IoT) is implemented into transportation. Such connected vehicles can be tracked and monitored using integrated broadband communication like cellular networks to deliver real-time information. The location sensors associated with both the passenger's and the driver's mobile devices (the actual "things" being monitored) are regularly broadcasting their location to a "back end" system on the "Internet Cloud". When it receives such a request, the cloud service then uses near-real time analytics to determine which car is the best fit to service the request.
In essence, transportation IoT is about how the data is collected from the fleet, incorporated into the cloud system and finally producing mileage reports, route profitability analysis and trigger workflows based on rules such as geofences or time spent in a specific location. Also, the purpose of such a technological implementation is to keep vehicles on the road using the best routes, track and manage maintenance in a timely and cost-effective manner, and keep drivers safe by tracking behaviour and addressing issues with increased training.
There are also many other ways which IoT can be integrated into fleet management: Smart vehicle application – deploying IoT to enhance existing vehicle onboard technology, improve collision prevention, auto-parking and enabling driverless vehicle services; Vehicle security and recovery solutions – use of RFID, sensors and transmitting technologies to prevent vehicle theft or recover stolen vehicles.
According to a Frost and Sullivan report, the spending of IoT in Indonesia will increase to USD$1350.0 M and spending in Malaysia will increase to USD$916.1 M in 2020. Both Indonesia and Malaysia will have a forecasted spending in transportation IoT of USD$38.78 M and USD$73.9 M respectively.
In the ASEAN region, governments have launched initiatives that help to raise the awareness and adoption of IoT technologies. The impact of adopting these technologies will help to improve productivity and efficiency across industries. For example, Malaysia's Ministry of Science, Technology and Information (MOSTI) and its National R&D ICT centre have released its National IoT Strategic Roadmap (in what year) aimed at moving Malaysia into becoming a premier regional IoT hub (by what year).
Despite the large spending pooled into this, it may not necessarily translate to fruitful results. There are many factors hindering the expansion of the IoT ecosystem such as the ICT infrastructure as well as lack of expertise in that area. Therefore, all telcos, government agencies and enterprises in the region are coming together to discuss the IoT ecosystem as well as the solutions available for the execution of digital transformation projects.
The 9th edition of Asia IoT Business Platform in Indonesia is happening from 15th – 16th August and the 10th edition of Asia IoT Business Platform in Malaysia from 18th – 19th August. Come join us and be part of the movement towards a more innovative IoT ecosystem.
Tak bisa kita pungkiri, kota Jakarta telah benar-benar membenahi dirinya dalam beberapa tahun belakangan ini. Gedung gedung perkantoran, shopping malls bertaraf international, dan berbagai merek-merek ternama dunia telah melebarkan sayapnya ke ibukota. Namun, apakah yang terbesit di benak Anda ketika ditanya pendapat Anda mengenai kota Jakarta? Setidaknya beberapa dari kalian akan menyebutkan kemacetan yang luar biasa di kota Jakarta sebagai ciri khas dari kota Jakarta ini. MACET. Memang kemacetan lalu lintas tampaknya sudah menjadi hal yang mendarah daging bagi penduduk kota Jakarta. Antrean kendaraan yang tak kunjung mencair, terutama pada jam-jam sibuk seperti jam berangkat sekolah dan jam pulang kerja memang telah menjadi santapan sehari-hari bagi kita semua. Akan tetapi, pernahkah Anda terpikir bahwa kota Jakarta menduduki peringkat tertinggi di dunia dalam tingkat kepadatan lalu lintas?
Berdasarkan studi yang dilakukan oleh perusahaan oli Castrol, Jakarta merupakan kota dengan tingkat kepadatan lalu lintas tertinggi di dunia. Studi tersebut merilis bahwa rata-rata pengemudi di Jakarta mematikan dan menyalakan mesin sebanyak 33.240 kali per tahunnya. Angka yang sangat mencengangkan tentunya.
Seperti dikutip dari Presiden Jokowi, beliau menyatakan bahwa berdasarkan laporan yang diterimanya, kemacetan telah membuat Jakarta kehilangan sekitar 35 triliun setiap tahunnya. Berbagai upaya telah ditempuh untuk mengatasi permasalah kemacetan di Jakarta, termasuk di antaranya penghapusan sistem 3in1 di Jakarta, dan juga peningkatan jumlah armada Transjakarta untuk mengurangi penggunaan mobil pribadi di ibukota. Selain daripada berbagai peraturan baru yang diambil oleh pemerintah DKI Jakarta demi mengurangi kepadatan lalu lintas, tampaknya sudah waktunya bagi pemerintah Jakarta untuk memulai pemanfaatan teknologi informasi dan IoT (Internet of Things) untuk mengatasi permasalahan tata kota di Jakarta. Perkembangan teknologi di masa depan, khususnya IoT, akan memungkinkan adanya komunikasi antara mobil-mobil yang beroperasi untuk mengontrol tingkat kepadatan di jalan raya.
Kita dapat berkaca kepada kepada Inggris, yang merupakan salah satu negara pertama di Eropa yang mendukung pengaplikasian program M2M (Machine to Machine). Program ini memungkinkan adanya Artificial Intelligence, dimana mobil-mobil saling berkomunikasi satu sama lain melalui koneksi Wi-Fi. Pertama-tama, sensor akan dipasangkan pada mobil dan juga di berbagai tempat di titik-titik rawan kemacetan di jalan raya. Sensor ini akan memonitor tingkat kepadatan lalu lintas dan mengirim informasi kepada sistem pusat untuk diproses lebih lanjut, dan kemudian disebarluaskan kepada para pengemudi di jalan raya. Apabila tingkat kepadatan cukup tinggi, sistem pusat akan memberikan informasi via Wi-Fi untuk menetapkan batas kecepatan maksimum bagi para pengendara, dengan tujuan untuk menghindari menumpuknya kendaraan di berbagai titik rawan kemacetan.
Dengan adanya 'smart transport system' ini, tingkat kemacetan lalu lintas di Inggris telah berkurang sebanyak 15%. Terlebih lagi, sistem ini juga mampu menghemat sebesar lebih dari 1 juta poundsterling setiap tahunnya. Mengikuti trend tersebut, beberapa negara di Asia termasuk di antaranya Jepang telah mulai mengikuti jejak untuk mengeksplorasi lebih dalam penggunaan IoT (Internet of Things) untuk mengatasi tingkat kemacetan lalu lintas. Memang sekarang saatnya bagi ibukota kita untuk ikut serta dalam pembenahan tata kota dalam rangka mewujudkan kota Jakarta yang bebas kemacetan.
Being the "Factory of the world", China is synonymous with manufacturing. However to tame rising costs, even Chinese companies are increasingly turning their gaze southward to Southeast Asia.
This, coupled with the implementation of the ASEAN Economic Community (AEC) integration plan, presents a tremendous opportunity for the manufacturing industry in the Southeast Asian region to lead economic development. This is where IoT technologies can play a crucial role for industries to give China a run for the manufacturing dollar.
According to a report by McKinsey, new technologies could increase profit margins and lower costs in manufacturing, potentially creating $25 billion to $45 billion of annual economic impact in ASEAN by 2030.
For example, the use of big data and the IoT could improve demand forecasting and production planning, leading to better customer service and higher profit margins. On the cost side, IoT can also improve supply chain management and by analyzing real-time data on suppliers' inventory and shipments in transit, companies can tighten inventory control and maximize production capacity.
15% of ASEAN respondents in the study said that they were optimistic that the ability to improve forecasting accuracy could potentially increase revenue or efficiency for their company by more than 50 percent.
Complement current operations with IoT
This view was echoed at a public dialogue held ahead of the 12th World Islamic Economic Forum, in Jakarta. A government official said, "Businesses in Indonesia and Southeast Asia must take advantage of disruptive innovations and technologies to leverage their global competitiveness, instead of worrying about the negative impact."
In a joint statement by the Habibie Center, the Indonesian Ministry of Finance and the World Islamic Economic Forum Foundation, Zamroni Salim, a senior economic researcher at the Indonesian Institute of Sciences, also said that, "Big data and the Internet of Things help analyze details of operations, real time data from suppliers' inventories, shipments in transit; to downstream customer demand, does complement conventional operations."
 Challenges & Considerations
However this technology opportunity is still waiting to be realized. One reason is the lack of awareness of these opportunities. Many manufacturing firms are also worried about not having the right talent to implement these technologies. Perhaps key to the issue is also the security challenge that manufacturing firms will have to face when they move to what IDC term as the 3rd Platform (cloud, mobility, big data/ analytics).
To realise the potential savings of up to $3.7 trillion per year by 2025 through IoT in manufacturing, the ability to scale up security is important. It is estimated 70% of IoT devices are vulnerable to cyber attacks and overcoming this challenge would accelerate the IoT adoption among manufacturers.
That said, Southeast Asian companies are starting to experiment with IoT despite the varying levels of infrastructure development. From predictive maintenance of air-conditioners to pilot projects of IoT improving agribusiness, we expect to see increasing case studies as more Southeast Asian manufacturers learn about the benefits of IoT
Extracts taken from "The Smart Manufacturing Opportunity in Southeast Asia"
Join the discussions at the 9th & 10th edition of Asia IoT Business Platform, in Jakarta, Indonesia & Kuala Lumpur, Malaysia where international & regional speaker will be discussing their insights on IoT in Manufacturing.
By: Ernest
On 7 July 2016, Hoa Lac IoT Lab – the first IoT lab in Vietnam – was officially launched at Hoa Lac Hi-Tech Park, a science city located in the outskirts of Hanoi. Attended by Deputy Minister of Science and Technology Pham Dai Duong, the lab aims to support technology startups focusing on IoT to build applications and solutions in Vietnam.
Situated inside the Hi-Tech Business Incubator, Hoa Lac IoT Lab includes exhibition and demo areas, research and development offices for the organisations, experts and IoT startups. Privately funded by Hoa Lac Hi-Tech Park, DTT Technology Group, Intel and Dell Vietnam, the lab will play an important role in providing the necessary resources for IoT products to be developed, tested and exhibited before being commercialised.
A conference titled "Science and Technology Development Cooperation Hoa Lac 2016" discussing the topic of IoT took place together with the opening ceremony of the lab. At the conference, Mr. Nguyen Lam Thanh, General Secretary of Vietnam Digital Communication Association, outlines the importance of the lab in supporting the startup community in the new and exciting IoT sector in Vietnam. Citing the examples of Malaysia and Korea, DTT Technology Group's director Nguyen The Trung highlighted the role of the government in creating an open ecosystem for small and medium enterprises to cooperate and develop Vietnam's IoT developments, making use of the market's young population and cheap labour cost.
It takes more than an hour to get across the capital of Indonesia, Jakarta – which stretches over 661.5 square km. According to a Castrol's Magnatec Stop-Start Index, Jakarta reported the most number of traffic jams on Earth, with approximately 33240 stop-starts annually. This won Jakarta the title of World's Worst Traffic Jam which is followed by Turkey, Mexico and Surabaya. What should be done to alleviate this problem?
According to Jakarta Governor Basuki 'Ahok' Tjahaja Purnama, traffic congestion in the city can only be solved after the city's rail-based public transportation system is completed. The city's public transportation consists largely of minivans and minibuses, many of which drive recklessly and often stop in the middle of the street to pick up and drop off passengers,exacerbating traffic conditions.
However, is building more infrastructure the only way to deal with the severe traffic conditions in cities like Jakarta? How can technology help to improve the situation?
One way could be through using Big data (IoT) to gather insghts that can help to optimize traffic flow and subsequently reduce congestion.
How does this work?
Devices embedded with sensors can be attached to cars, streetlights, which then capture data such as – amount of time a car is stuck in the traffic for, the average speed that the car is moving on road, the timing which causes the most congestion, the start-stop time for a car etc. The device will diagnose the situation and send the data so that the team monitoring the issue can quickly and efficiently address the crux of the issue.
Some examples of public-private partnerships to alleviate the traffic situation:
Jakarta
Qlue, a smart city solution startup has partnered with Jakarta Smart City Unit to build a dashboard, analyzing data from online complaints, sensors and traffic apps.
Malaysia
Cyberview is the tech hub that will drive the transformation of Cyberjaya into a Global Technology Central that is in line with the Malaysia National IoT Strategic Roadmap. There will be LTE-equipped controllers that run video cameras with analytic capabilities mounted above the traffic lights. The cameras analyse the traffic situation and intelligently direct traffic at the intersection to reduce waiting time at traffic lights. The camera acts as a sensor which then wirelessly transmits the collected data via the cloud to the central Traffic Management Command Center, which has direct access to the traffic light controllers.
In addition, traffic congestion in cities can also be a result of shortage of parking spaces. As drivers look for parking space, they tend to slow down their cars or even halt at the entrance of a fully packed carpark. China's parking app, TingCheBao, helps user to find the nearest parking lot, reserve it for them in advance and show the prices for the lots. Also, to reduce cars parking on the roadside, ShenZhen Yeefung Automation Technology has come up with an automated parking solution which helps drivers find parking spaces using Geta, a robot that has 360 degrees mobility and will utilize parking resources in optinmally.
There are definitely more solutions out there and we hope to hear from you. Share with us what you think IoT can do to create a smarter traffic system.
Join us in the discussion of how we can raise the awareness and adoption of IoT/M2M technologies in the upcoming 9th and 10th edition of Asia IoT Business Platform in Jakarta and KL. Find out more here.
By: Delfina
Last Friday, a group of hackers in China allegedly took down the announcement systems in major airports in Vietnam, including Hanoi's Noi Bai International Airport and Ho Chi Minh's Tan Son Nhat Airport – the two biggest in the country. The screens and speakers at the airports then started broadcasting messages insulting Vietnam and the Philippines, claiming China's sovereignty over the so-called "nine-dash line".
The incident sparked outrage among Vietnamese, whose relationship with China is already tense due to the South China/East Vietnam Sea conflicts. It also highlights the importance of enhancing cybersecurity in the increasingly connected world.
Airports are one of the most vulnerable sites for cyber attacks due to its visibility and the large impact of any disruption to the system. The recent hacks forced operators in Noi Bai and Tan Son Nhat to switch off their networks and check in passengers manually, creating long lines and flight delays. Vietnam Airlines' website was also hacked, resulting in the personal information of more than 400,000 Vietnam Airlines' frequent flyers being leaked online.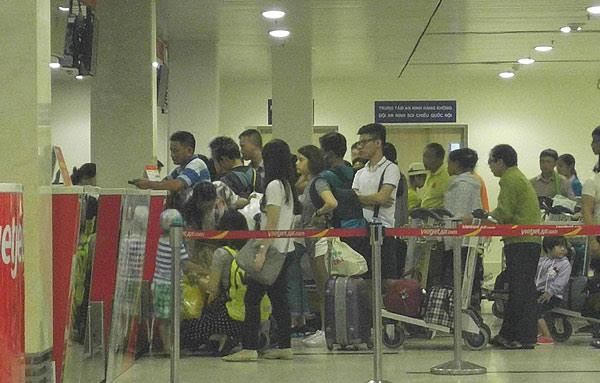 Vietnam's state of cybersecurity is low – it is the third most-attacked country in the world, according to Kaspersky's cyberthreat real-time map (updated at the time of post). Many computer and Internet users, even in government organisations, use little to no protection service, and unlicensed softwares that are more vulnerable. 85 percent of computers have virus infected from USB drives, while 30 percent of banking websites have vulnerabilities – two-third of which are high-level vulnerabilities. In the wake of the hacking incidents, at least 2 commercial banks have temporarily disabled their online banking services, with the rest closely monitoring the system for any unusual transactions.
The inter-connectivity of devices and reliance over technologies for everyday operations expose their users to various threats. A recent study shows that 70 percent of current IoT devices contain serious vulnerabilities. Even your wireless keyboards may not only be sending data to your computer, but also to a hacker tapping on the unencrypted data transmission.

As the ICT sector continues to develop in Vietnam, with 'smart' projects sprouting up in various areas and verticals like smart cities, traffic management and smart agriculture, this cyber attack serves as a reminder to prioritise security at the top of any implementation of connected technology – over convenience and novelty – so the damages of cyber attacks can be reduced and/or mitigated.
How do you keep your organisation secured against potential cyber threats? Leave your suggestions/experience down in the comments section below.
Cybersecurity will be discussed at the upcoming 11th edition of Asia IoT Business Platform, taking place in Hanoi, Vietnam at the end of November 2016. For more information, drop me an email at dinh@industry-platform.com.
By: Dinh
One of the fastest-growing economies in the world, Vietnam has been rapidly growing its IT sector to pursue the aim of becoming an industrial country by 2020. The recent Vietnam ICT Comm 2016 in Hanoi witnessed strong interest particularly in the IoT sector, with thousands of people trying out IoT products and attending a presentation about IoT by Mr. Hoang Viet Tien. The potential for IoT in Vietnam – according to Mr. Tien, with a nationwide average of 1.4 mobile phone per person. At the same event, VNPT debuted its IoT complete solution package called Smart Connected Platform, that has already been implemented in various projects in different verticals such as agriculture, transportation, healthcare and manufacturing, helping to increase operational and monitoring efficiency.
While receiving massive attention now with tech giants like VNPT, FPT and CMC identifying IoT as the "leading trend" of tech, IoT is, in fact, not new to the Vietnamese tech scene. Smart City projects started out as early as 2008, and since then has appeared in at least 5 more cities. The healthcare industry identified Big Data and Analytics as its greatest concern in improving competitiveness, according to a survey done by IDC in 2015. The Government pledged to invest USD 111.6m from the State Budget in the ICT sector by 2020, incentivising local and international firms to invest in the country. In 2013, the Ministry of Science and Technology set up Silicon Valley Startup Ecosystem to stimulate growth and encourage Vietnamese to venture into tech startups.
"I believe [2016] is the right time for Vietnam to think of developing the Internet of Things as a solution to foster socio-economic development thereby, it can help increase the national competitive advantage." said Nguyen Minh Hong, Deputy Minister of Information and Communication
Despite the benefits of IoT, much of its presence in Vietnam at the moment remains fragmented, lacking standardisation, and having security concerns. IoT projects are being deployed without fully understanding the effects and implications of the technologies, resulting in uncomprehensive technological changes and incompatibility between new and legacy devices, and unsustainable deployments that do not reap the long-tern benefits of IoT. Most of the IoT technologies in Vietnam at the moment are imported, hence understanding of the system and troubleshooting can be costly and ineffective, as the products may not be tailored to fit the local market's requirements. Vietnam's IT talent pool, while young and large, still lacks the level of expertise seen in other countries such as USA and India. While Vietnam is rising as a manufacturing powerhouse due to its cheap and abundant labour force, IoT harnesses the power of machine-to-machine automation that in the long run will nullify the competitive advantage that Vietnam's market currently holds.
Therefore, it is important for all organisations, enterprises and vendors across the IoT ecosystem in Vietnam to cooperate, discuss and educate relevant policy makers, end users and interested individuals about moving towards a standardised, localised ecosystem that generates the most amount of benefits for everyone involved. Government officials need to be aware of the implications of IoT technologies – pros and cons – and establish a strategic roadmap for IoT development in the country that compliments the national ICT roadmap. Technical and higher IT education continue to be the key to sustaining the country's workforce's advantages over its neighbours, so that technologies can be transferred completely and customised to fit specific needs and requirements.
Asia IoT Business Platform Hanoi 2016 will be working with the Ministry of Information and Communication, Ministry of Science and Technology, Vietnam Digital Communication Association and solution providers across the IoT ecosystem to discuss and develop the IoT market in Vietnam. For more information and the full report on IoT in Vietnam, drop me an email at dinh@industry-platform.com 
Data and predictive analytics have transformed finance, manufacturing and many consumer industries.  Healthcare is slow to the game, but no exception
At 8th edition of Asia IoT Business Platform; Dr Yau Teng Yan, Chief Medical Officer at Holmusk, spoke about how Big Data can be used to fight Chronic diseases. In his presentation, he mentioned doctors, are experts at practicing 'trial-and-error' medicine.  A patient presents with symptoms and doctors make the best diagnosis they can come up with based on their personal knowledge and experience and prescribe drugs based on standard dosages. Doctors then hope for the best and after some time, if the drugs doesn't work,  the dosage or the medication is changed, or a different diagnosis is considered, until something works.
'Evidence-based medicine' – a core tenet where doctors base their clinical decisions on well-conducted research – is often inefficient because the results in research are summarized and averaged out and it is assumed that each patient is an 'average patient'. However, the availability of new kinds of data and new tools for data analysis is providing a new approach to medicine and how it is improving patient outcomes.
Giving an example on breast cancer, Dr. Yau, explained that it is the second leading cause of cancer deaths in women today, with survival rates for advanced breast cancer at less than 30% living beyond 5 years. A drug, Tamoxifen, used for the treatment of breast cancer has been thought for a long time to be 80% effective, based on clinical studies. However with the availability of new kinds of data and data analytic tools,  it is now known to be 100% effective in 70 – 80% of patients, and ineffective in the rest of them. Biochemical markers are the key in predicting which patients will respond and which won't. This is important as the drug should not be prescribed to someone, which it will be useless for, because it has side effects, like risks of blood clots and uterine cancer.
What Can Big Data and Health Care Analytics do?
Big data refers to large, complex sets of data that are difficult to access or manage traditionally. Big data in healthcare consists of electronic health records, doctors' notes, pharmacy prescriptions, insurance claims, sensor data (such as blood pressure, glucose level), genetic information, and more. These sources of data that weren't available a decade ago, but now have huge potential to help us better understand our bodies.
Healthcare is transitioning into a data rich environment today. In 2011, 150 exabytes of data (that's 150 billion gigabytes) was generated in US healthcare organizations alone.
Data by itself is not very useful. The key enabler for this revolution is the availability of cheap computing power to analyse these large datasets to generate new insights into disease.
Unlocking the hidden value in this information has the potential to improve care and attain cost effectiveness. Data analytics allows health care practitioners to synthesize and discover patterns and correlations within the data that would not have been revealed otherwise.
Doctors will be able to make better and more accurate diagnoses, and provide the patient with more personalized treatment plans based on their profiles, improving patient care.
Join Telstra Health at the 9th edition of Asia IoT Business Platform which will be held in Jakarta, Indonesia on 15-16 of August as they discuss insights into Health Analytics and how patient care can be enhanced.
By: Ernest
Enterprise IoT Business Potential – A lot of big numbers being thrown around, but where are the real opportunities?
It's been well documented, and almost universally accepted (65% of enterprises using IoT for business purposes), that the Internet-of-Things (IoT) will play a big role in both individual lives (Pokemon Go, anyone?) and in the way enterprises conduct business in the future. On a macro level, there's been a plethora of reports forecasting double, sometimes triple, digit growth dates in the number of connected devices (30 – 100 billion) and the total value that will be created by these devices.
When it comes to enterprise IoT solutions & adoption, we look at the business opportunities for technology players across the IoT value chain. A McKinsey report estimated an economic impact of up to $11 trillion per year by 2025 – with more than 70% of this being derived from business-to-business (B2B) applications. What's more, they expect most of this value to emerge from developing countries.
Frost & Sullivan took it a step further and forecasted IoT spending in APAC to be $79 billion in 2020, identifying Southeast Asia as a key area for growth.
While macro level reports have been extremely positive about the growth of IoT globally, we decided to take a step back and conducted a survey of local enterprises both in Indonesia and Malaysia. We've seen an exponential increase in interest within the Enterprise IoT space over the past 3 years in both countries and this has translated to increased awareness & adoption of IoT solutions.
We found that the numbers in both countries were extremely similar:
Roughly 50% of enterprises are either not aware of enterprise IoT solutions or only have a basic understanding of it.
~45% of enterprises have explored and/or implemented enterprise IoT solutions
Only 2% and 4% of enterprises have reported reaping the benefits of implementing IoT solutions
Which vendors do enterprises turn to for enterprise IoT solutions?
When it comes to familiarity with technology vendors which provide these solutions, IBM was named most frequently in our surveys – with Microsoft, Hewlett Packard and the Indonesian telcos (Telkomsel, Indosat & XL) also creating much brand awareness in Indonesia. Microsoft and Cisco were also cited frequently amongst Malaysian enterprises.
Potential for IoT spending in Indonesia & Malaysia
The results from the survey only begin to scratch the surface of the potential of the market in both countries, and we think educating enterprises about these solutions is the key for the market to realise/reap the benefits of IoT adoption. What we know for a fact is that enterprise adoption has been increasing and it's almost a given that the segment of enterprises benefitting from IoT will continue to increase as they get used to systems and the amount of data being collected/utilized increase and get put to greater uses. It will be interesting to see which technology solution providers will take the lead over the next few years with the corresponding increased spending.
If you're interested in the full report of the survey, please email to this address: irza@industry-platform.com and we will be sending you the summary.

Network with local enterprises from Indonesia and Malaysia at the 9th and 10th edition of Asia IoT Business Platform in Jakarta (15 & 16 August 2016) and Kuala Lumpur (18 & 19 August 2016) respectively. Register here.
Pokémon Go is a free-to-play location-based Augmented Reality mobile game and it has taken the world by storm. So far, it is officially available only in the US, Australia and New Zealand. It immediately became the top free app in the US and was so popular that servers crashed briefly on launch day. The share price of Nintendo, the company who owns the Pokémon franchise and 33% of the company that developed the game, shot up 50% in three trading days since the game was launched.
The technology behind the game, Augmented reality (AR), is the real time integration of digital information with the user's physical environment. AR uses the existing environment and adds layers of information on top of it, which is unlike virtual realitywhich creates an entire digital environment.
AR has been the stuff of movies, from Terminator in 1984, to Iron man in 2008, where Tony Stark's views the world in AR in the Iron Man suit.
Consumers might also be aware of the 2013 release of Sony's Playstation 4, which included a camera and software called Playroom. Playroom allows you to call out and interact with AR robots on your TV screen.
While AR has been around for years now, it owes a lot to Pokémon Go as it brings the technology to the main stream masses, increasing awareness. The maturity of the technology factors that have enabled the phenomena includes;  connectivity speeds and reliability have improved, decreased costs and increased processing power in a smart phone allowing real time interactions.
In addition to consumer applications, augmented reality has the potential to impact industrial processes, improving productivity and allowing businesses to better manage risks. Leveraging on these new technologies will be important for Southeast Asian enterprises to compete with their global counterparts.
Logistics and Distribution
At the 7th edition of Asia Internet of Things(IoT) Business Platform, DHL presented a case study showing that it has successfully carried out a pilot project testing smart glasses and augmented reality in a warehouse in the Netherlands. The technology was used to implement 'vision picking' in warehousing operations. Staff was guided through the warehouse by graphics displayed on the smart glass to speed up the picking process and reduce errors. The pilot proved that augmented reality offers added value to logistics and resulted in a 25% efficiency increase during the picking process.
Manufacturing
Boeing sees the future of augmented reality on the assembly line. In 2014, Boeing partnered with Iowa State University, putting 45 students through assembly projects in 3 groups. Each group used a different method of instruction; paper instructions, instructions on a handheld PC, or instructions using augmented reality. Boeing found that the augmented reality group had significantly fewer errors, and took less time to build in comparison to the other groups. That data provided the business case to move the pilot into a factory and a step closer to real-life testing.
Boeing thinks augmented reality could drive down costs and increase first-time quality on many fronts — reducing training time, speeding up build times, making it easier to shift employees across tasks, and aiding the transfer of "tribal knowledge" from retiring workers to newbies.
Challenges in implementing AR
While pilots have been successful, technical challenges exist in rolling out the technology on a large scale in a complex environment. Big leaps in hardware would be required, this includes processing power of the chips, high resolution touch screen panels, cameras, sensors and microphones within the AR device. The other challenge would be seamless connectivity of the devices to a stable and reliable network.  Security of the network is another challenge that needs to be overcome.
That being said, Pokémon Go has helped to improve general awareness of AR technology and i believe that this will help open up the minds of enterprises to keep abreast of technological developments in AR as a potential technological solution to current pains.
Join the discussions on Internet of Things(IoT) in Manufacturing and Logistics & Distribution at the 9th and 10th edition of Asia IoT Business Platform held in the week of 15th August in Jakarta, Indonesia and Kuala Lumpur, Malaysia.
By: Ernest
By: Ernest
Machina Research published a report late last year predicting that 2016 will be a critical year for defining the future of LPWA networks and IoT connectivity. They couldn't be more right.
Although LPWA networks are not new, Asia has picked up the pace in deciding which standards to adopt this year.
I wrote about the possibility of LPWA as the magic pill to accelerate ASEAN IoT adoption in March, and since then, the various network technologies have made several important announcements.
1. LoRa Alliance
While LoRa Alliance do not have a regional headquarters in Asia yet, we expect with the addition of ZTE to its board (Read: ZTE takes board position at LoRa Alliance) and its recent wins in Malaysia ( Read: MDEC, TM team up with LoRa Alliance for Internet of Things ecosystem) to bring about an increased focus in Asia.
We have been told that an openhouse in Asia at the end of the year is being planned and we will have many companies sharing their LoRa IoT deployments at our 10th Asia IoT Business Platform in Kuala Lumpur.
This includes KPN's Managing Director of IoT Operations, Remco Hekker who will be talking about their roll-out experience and making Netherlands the first country in the world to have a nationwide LoRa network for IoT applications.
Atilze Digital, a start up that is working with MDEC for city-wide IoT sensor network, will also be tapping on their partnership with LoRa Alliance pioneer member, Gemtek Technology, to enable the entry of IoT applications in Malaysia.
STMicroelectronics became a second source for RF chips supporting the LoRa since their collaboration with Semtech in December 2015. This gives traction to the growing LoRa network and Franck Martins, Senior Regional Marketing and Business Development Manager, APAC will be sharing insights on wireless connectivity for IoT in Malaysia.
2. Sigfox
SIGFOX opened its Asia Pacific office in Singapore earlier this year and hired industry veteran Roswell Wolff as President of SIGFOX APAC to oversee its rapid expansion in the region.
They announced their deployment in Australia and New Zealand this April and was recently named the "Most Promising IoT Networking Solutions Provider" in Asia by Frost & Sullivan.
However due to its proprietary nature developed in France, SIGFOX users can only buy basestations from SIGFOX and that has prompted concern among service providers about supplier "lock-in." It's revenue sharing model (reported by Light Reading to be as much as 40% of service revenues in 2014) could be a major deterrent for service providers weighing their LPWA options.
3. NB-IOT
Backed by 3GPP, the cellular specifications group, NB-IoT is expected to include LPWA-like capabilities in its Release 13 later this year.
Some has touted that the emerging NB-IoT standard will be the death of rival technologies like Sigfox and LoRa, which have been relying on the use of unlicensed spectrum to support services (Read: Vodafone to 'Crush' LoRa, Sigfox With NB-IoT). However others note that NB-IoT has yet to see commercial deployment and will remain a costly alternative for several years.
Notably, Vodafone has thrown its support behind NB-IoT with the opening of a dedicated NB-IoT lab in partnership with Huawei at its UK headquarters in Newbury.
Huawei itself has also launched its NB-IoT solution at MWC Shanghai this month. Its solution will be available in September 2016 and a significant commercial trial is planned in the fourth quarter followed by the release for large-scale commercial use in late December of 2016.
Asian telcos like KT, China Unicom and China Mobile are also behind NB-IoT technology. China Unicom, especially, is reported to target more than five cities in China this year for large-scale NB-IoT field trials. The telco expects to start commercial deployment of NB-IoT by the end of the year and reach nationwide coverage in 2018.
Final Word
Other LPWA technologies include Ingenu, Weightless, LTE-M. It is without a doubt that LPWA networks are required for widespread IoT adoption but the interesting thing about this battle is that it extends beyond the technology.
What will determine success at the end of the day will be how users perceive these technologies and how effectively it can help them achieve their desired business outcome. The challenge is not one of technology performance, but in providing a solution to a problem that customers are willing to pay for and it not always the best technology that wins the race.
Join us as we discuss "Key aspects when considering IoT network connectivity" at our KL event this Aug 18 & 19.
By: YY
The adoption of the Internet of Things has seen increasingly rapid growth in recent years, with the number of connected devices expected to exceed 20.8 billion by 2020, a rise from the expected 6.4 billion in 2016. As a result of this, the army of devices that make up the Internet of Things will generate an exponential increase in data volumes. The IDC Digital Universe Study anticipates that the accumulated digital universe of data will increase from an estimated 4.4 trillion gigabytes today to 44 trillion gigabytes by the year 2020.
In Asia Pacific, government initiatives are driving IoT technology adoption, with the number of connected devices expected to increase from 3.1 billion to 8.6 billion by 2020 in APAC alone (excluding Japan). For instance, Malaysia's Ministry of Science, Technology and Innovation (MOSTI) along with the National R&D centre in ICT (MIMOS) launched the National IoT Strategic Roadmap to transform the country's digital economy. Singapore has a Smart Nation initiative while Jakarta has Smart City programs in place. Smarter Philippines was also launched by the Department of Science and Technology (DOST) in 2013 to enhance economic growth through technology. Additionally, India has declared its 100 Smart Cities vision while the Thai government is working with Japanese companies and researchers to implement smart city technology to the country's cities, primarily to combat traffic congestion.
With this massive influx of data, comes the need to store, process and analyse it. Proper utilization of big data can give rise to data-driven business models, which bring increased revenues, better efficiency, lower costs and customer satisfaction. This is where cloud-based services have and will continue to be increasingly prevalent with the increase in amounts of connected devices. The cloud makes it possible for companies to collate data resources in its entirety and provides ease of access, in real-time.
However, while the cloud has its positive attributes that go hand-in-hand with the adoption of the IoT, business leaders express concerns with regards to the threat of data breaches. Given the vast amounts of available data in the case of a security breach, the cloud may also be the most vulnerable link. Security risks continue to be the biggest hindrance to IoT adoption, which is why enterprises are hesitant to exploit the full benefits of IoT. These concerns hold true in the Asia Pacific region. According to FireEye's report, Asia Pacific is 35% more likely to be targeted by advanced cyber-attacks as compared to the rest of the world.
Nonetheless, with IoT growth, comes greater security risks, and therein lies greater opportunities for security providers. The IoT security market will thus see rapid developments, with worldwide spending anticipated to reach $348 million in 2016, a 23.7 percent increase from 2015 (according to Gartner, Inc.).
Greater emphasis needs to be placed on dealing with issues in cyber-security in relation to IoT. More has to be done to educate enterprises on IoT in order to exploit the vast APAC market potential.
The underlying question that therefore remains is "how do we ensure security in the age of the cloud?" The onus is on the solution providers to provide security solutions for the respective technology, and also on the enterprises to ensure movement of data is controlled and accounted for across the entire data movement chain.
Join us at Asia IoT Business Platform should you have ideas or solutions to share in relation to the Internet of Things.
It's no surprise that Singapore is often in the limelight with regards to Smart Cities development in the Southeast Asia: with 100% urban population, strong ICT infrastructure and the highest smartphone penetration in the world, the government has successfully launched more than a dozen smart city projects as part of its Smart Nation Program.
However, if we look past trying to define smart cities and instead focus on measuring the desired outcome, smart city endeavours in ASEAN nations like Indonesia, Malaysia, Vietnam, Thailand and Philippines could potentially bring about a larger positive impact to the local community.
Smart City Solutions for the Developing Economy
For many of these countries, infrastructure is lacking. Smart City technology can help better utilize the existing resources (schools, hospitals, roads, public transportation) and extend its reach to the rural areas.
Digitalization of government services can also help to provide greater transparency and accountability and reduce the opportunities for graft and corruption. Smart utility solutions can help better manage energy use. IoT can even be integrated into natural disaster and risk management solutions for countries like Philippines.
In addition, with more than half of Southeast Asia's 600 million people under 30, the potential for rapid uptake of smart city technologies
Smart Cities in Indonesia
Indonesia has been slow in implementing Smart City initiatives over the last decade due to lack of collaboration between the city government and the federal government.
However with the success of Smart City projects that are funded by the local/ regional governments, the pace has picked up dramatically.
Pak Setiaji, Head of Jakarta Smart City, spoke to the media at the Asia IOT Business Platform Media Day (June 16, 2016) about their plans to improve the lives of its citizens.
In addition to using Qlue as a platform to resolve public complaints, they are also using a monitoring system for over 6000 CCTVs to improve traffic and public safety in advance to welcome the 2018 Asian Games in Jakarta
The Jakarta One Card was also launched earlier in June and it aims to combine the functions of an electronic ID card (e-KTP), a payment system for public transportation, shopping and electronic road pricing (ERP) tolls, and a Social Security Management Agency (BPJS) health insurance card. It is targeted that by 2019, all citizens in Jakarta will have the Jakarta One Card.
A Smart Street Lighting system is also in the works to replace 90,000 lamps this year and reduce the high electricity consumption. These lights can be controlled remotely and can provide notification when it should be replaced.
The Indonesian newspaper, Kompas, recognized 15 Smart Cities in Aug 2015 based on criteria such as smart economy, smart society and smart environment. Currently there are 24 (and counting) smart city implementations across the nation from Bandung to Manado.
With Indonesian mayors making technology a priority for planning the best use of limited resources, and with large investments from telcos to bridge the funding gap from the federal government, we foresee big strides forward for Indonesia Smart Cities.
Smart Cities in Vietnam
As mentioned in a recent article by Dinh, our assistant project director for the 11th Asia IoT Business Platform in Hanoi, IoT and smart city solutions hold great promises in solving everyday life issues and improving the citizens' quality of life for a less economically developed country like Vietnam.
Phu Quoc, an island off of Kien Giang Province, is one of the cities aiming to become the first smart city of the country, in line with the nation's vision to turn Phu Quoc into a Special Economic Zone (SEZ) in 2020. Vietnam Post and Telecommunications Group (VNPT) is working closely with the local government to materialise the VNPT Smart City model in Phu Quoc by building network infrastructure, data centre, and smart services. High-speed 4G network has already been trialed successfully on the island.
Mr. Mai Van Huynh, Vice President of Kien Giang People's Committee, believes that the smart city project is necessary for Phu Quoc to become a well-connected, sustainable and important SEZ for the country and the region. However, "to have a smart city, there must be smart citizens, smart government officials", Mr. Huynh.
This is just one of many efforts by the Vietnamese government in recent years to promote its municipalities towards becoming smart cities, in order to tackle various socioeconomic issues such as traffic jams, environmental pollution, and energy conservation.
What we can learn from Singapore
While many ASEAN nations may not have the financial willpower of the Singapore government to spend S$19bn for Smart Nation R&D initiatives, there are three takeaways that could accelerate smart city developments in Southeast Asia.
1) Having a centralised Smart City program. Data and technical know-how are shared among the cities to identify more actionable insights.
2) Commitment to education. From nurturing a highly educated workforce to providing skills upgrade and training for older workers, education initiatives need to be in place to manage the changing demands of the workforce.
3) Delayed Gratification. Often smart city initiatives takes time to bear fruit and smart city stakeholders need to take a long term view when deciding investments.
To take part in the discussions for ASEAN Smart City developments, do share with me your story at yueyeng@industry-platform.com
[:en]
If you are interested in more Information on IoT in different industries, please take advantage of our other articles. Another provider of valuable content on the global telecommunications industry is Telecompaper, which offers the possibility of a free subscription which can be found here.[:]
[:en]
Last Tuesday, two coordinated explosions in Brussels left at least 34 people dead and over 200 injured. The fact that the attackers were able to hit high-profile targets in the country's capital – which happens to also host the European Union's top institutions – serves as a reminder that keeping cities safe is critical.
Cities and urban centers are hothouses for economic growth, innovation and cultural development. In Asia itself, most cities are developing rapidly, and safety plays a major part in attracting and securing investments, businesses, and skilled labor necessary for economic growth and development.
Unfortunately, their very success attracts wrongdoers, from petty crime to lethal terrorist attacks. As cities continue to grow in number, size, and complexity, their infrastructure and services come under increasing stress. Civic resources are under pressure and crime is harder than ever to police.
As it stands, most video surveillance technology is inefficient. Police investigations are often hampered by blind spots in video networks and low-quality imagery. Issues with data storage and retrieval mean incident data can be slow to reach command staff, and data loss can derail investigations altogether.
Recently we saw many ICT solution providers focusing on 'smart city' solutions, which make use of a web of inter-connected devices, software and cloud storage systems – namely IoT – to enable public and private services to work together more efficiently.
Are smart cities safe cities as well?  In concept, I believe this same network of connected devices are also new tools for governments to improve public services such as crime-fighting. It can help law enforcement monitor public areas, analyze patterns, and track incidents and suspects, enabling quicker response. By combining information from video surveillance cameras, social media, citizen reports, and other sensors, the solution provides a richer view of urban safety.
Through my interviews with public sectors attending the Asia IoT Business Platform, governments are taking public safety very seriously.
To protect cities against crime, terrorism, and civil unrest, they are on the lookout for new technology that involves:
Location monitoring – View live feeds of any surveillance camera to assess conditions; collect data on crime type and location; and monitor social media for possible threats.
Incident detection and management – Use video feeds and analytics to verify and detect threats and incidents; alert operators to potential incidents; create incident records; and collect all data regarding the incident lifecycles.
Administration and communications network – Easily configure and manage sensors, video infrastructure, and policy; deploy sensors in designated areas, set up regional and central intelligent command and control centers.
Analytics – Report distribution of crime by frequency, location, etc., to aid in planning and to help predict crime patterns; identify areas with recurring issues.
We hope to urgently drive the message that public safety should not be taken for granted.  Collaboration between all stakeholders are required to ensure that prevention measures are taken strictly to minimise further attacks on innocent cities. Please drop me a note if you think you have the right solution to enable safer cities – lets make the world a better place with the use of right technology.
My heart goes out to the victims of this terrible tragedy.
Sue Yuin
sueyuin@industry-platform.com[:]
[:en]
To address urban challenges such as pollution, energy efficiency, security, healthcare, traffic, transportation, etc., smart city initiatives worldwide are increasingly (well – they have to be) focused on the IoT.
By providing real time and remote monitoring for different aspects of data management in areas such as transportation, communication, video surveillance, and sensors on devices and sensors distributed throughout the city, a community will have the ability to create intelligent environments with IoT.
Hence it does not come as a surprise when we see local governments competing (some collaborating) to build innovative and sustainable cities by utilising advanced technologies in data gathering and communications interconnectivity via the internet. IDC forecasted that over 25 percent of all local government external spending will go to deploy, manage, and realise the business value of the IoT by 2018.
So what are the solid efforts that have been initiated (or even better – have already taken place) by local stakeholders in Southeast Asia to catalyse the visions of Smart Cities?
Lets dive into specific countries for detailed analysis.
The Philippines
Smarter Philippines was launched by the Department of Science and Technology (DOST) in 2013 with the aim of improving economic growth via technology.
As part of the programme, DOST Secretary Mario Montejo announced Cauayanto be the first of 144 cities in the Philippines to become a "smarter city".
"A smart city should have ICT infrastructure to connect systems, and share and analyse data, resulting in faster, real-time responses to present situations", said Montejo.
Cauayan's initiatives include an e-government system, a computerised police clearance process and a city ID system. It also plans to use technology to improve its agriculture, businesses, jobs, healthcare and adapt to climate change.
We saw the Philippines working on the first step by providing municipal Wi-Fi to nearly 1000 cities in the country. In November 2015, the PHP 1.408 billion (US$31.6 million) project was tendered to set up Wi-Fi hotspots in 997 cities.
While the DOST's ICT Office will lead the project, a steering committee with 15 other agencies will coordinate the project. These include the Departments of Tourism, Trade and Industry, Health, Budget and Management, Education, and the Metro Manila Development Authority.
As the supporter of Asia IoT Business Platform: IoT Philippines, DOST's ICT Office has shared with us on further plans and explore strategic solutions to help local enterprises. We believe that the move towards technology advancement will be pushed along by corporations like Globe Telecom, Microsoft, PLDT and more.
Thailand
On the move to become ASEAN's digital infrastructure hub by 2020, the Thai government has demonstrated great determination through a solid digital economy master plan by the ICT ministry with main domain missions such as hard infrastructure, soft infrastructure, service infrastructure, digital economy promotion and a digital society; and pilot projects centered on e-commerce, e-education, e-industry and e-government.  
According to Jeerawan Boonperm, chairwoman of the Software Industry Promotion Agency (SiPA), 100 million baht has been allocated to develop the digital infrastructure and a data centre in Phuket. The plan is to turn Phuket into an innovation-driven smart city by 2016. This is a pilot project to promote digital-related investment and further development of the tourism industry.
"Phuket will be Thailand's first smart city, with Chiang Mai tipped to be next in 2017," said Ms Jeerawan said.
The e-government agency was playing a big role in the planned roll-out of the e-government pilot project.With 2,000 ICT centres nationwide, the e-industry pilot project focused on encouraging SMEs to benefit from using technology.
The Ministry of Information and Communication Technology (MICT) will be giving the keynote address for Asia IoT Business Platform: IoT Thailand this May, sharing on the visions and opportunities on collaboration within the IoT sectors.(A brief snippet: South Korean government and companies are especially interested in sharing their expertise and solutions in the Phuket Smart City Project.)
On the Part 2 of this article, we will explore similar smart city initiatives in the following countries: Indonesia and Malaysia.
Have a tip off on the latest local developments? Drop me a note.
Sue Yuin
sueyuin@industry-platform.com[:]
[:en]
[:]
[:en]World Population Review clocked Jakarta at 10.2 million residents at the end of last year. If the surrounding metro area is also included, the population exceeds 28 million. Each day, Jakarta residents cope with a variety of infrastructure challenges, including sluggish traffic, shaky power grids, slow internet speeds, and floods brought on by inadequate drainage systems.
Indonesian Smart Cities
Indonesian government launched the Smart City vision Indonesia 2015 -2045, with ICT at the heart by enabling the 3 stages of the cities of the future: Decent Cities (comfortable, liveable and safe), Greener Cities (resilient to climate change and disasters), and Smarter Cities that are competitive and technology based.
Various stakeholders are working together towards developing smart cities, as seen by the smart city index that was initiated to answer challenges around how to wisely manage a city and increase residents' welfare and quality of life. Depok, Tangerang, Pontianak, Surakarta, Madiun and Bontang are among the 15 winners announced for the 2015 Indonesian smart cities awards based on surveys conducted by Kompas daily newspaper and the Bandung Institute of Technology (ITB) with the support of state-owned gas firm PT Perusahaan Gas Negara (PGN). The awards were given to the cities to highlight their achievements as well as to encourage others to follow their leads and applied smart city concepts.
Major local operators working towards growing Internet of Things (IoT) network
Beyond providing connectivity, telcos in Indonesia are actively exploring ways to grow the IoT ecosystem. This can be seen through the heated discussions in the Indonesia IoT Leaders Panel in the 5th edition of Asia IoT Business Platform: IoT Indonesia. The panel was formed by Telkomsel, Indosat, XL Axiata and the Ministry of Communication and Information Technology, with Oracle as moderator.
Based on our interviews* with Indosat, partnership is important to drive the development in various verticals.
*Blog post: Indosat's Head of M2M identifies KEY opportunities in Indonesia
*Video interview: Indosat on IoT Indonesia: Asia IoT Business Platform 5th edition
Actions were taken; earlier this October Indosat signed an agreement with Google to test Project Loon in Indonesia, supporting the Indonesian government's efforts to provide last mile digital connectivity in remote and rural areas across the country. Indosat plans to continue to actively participate in the government's Smart City programs by supplying end-to-end products and solutions specifically designed to fit the need. M2M services embedded within Smart City services include E-Tax, Smart Street Lighting and surveillance.
IoT Indonesia: Automotive sector is booming
At the 5th edition of Asia IoT Business Platform: IoT Indonesia this August, a new breakthrough in automotive sector was showcased by Telkomsel: T-drive, which is designed to monitor driving behaviour performance for safety. This new technology is on top of the current car tracking and fleet managemnet solutions they had developed, and Alan Manullang mentioned that they are working at the 2016 roadmap for connected car (Watch Telkomsel to push M2M Indonesia – Asia IoT Business Platform 5th edition).
IoT Indonesia is advancing rapidly. There are hopes to transform the chaotic mega-city of Jakarta into a "smart city," in near future, one which uses ICT solutions to address mobile, transport, energy sustainability, infrastructure, governance, and security issues.
The 9th edition of Asia IoT Business Platform: IoT Indonesia will return to Jakarta on 15-16 August 2016 to gather the government, telcos and rest of the ICT industry for discussions on M2M/IoT sector developments, educate enterprises on IoT implementations and foster strategic business partnerships. Request for a brochure here.
Also view our take on The Role of Government and Partnerships in Driving IoT[:]
[:en]A city with which you can interact – a living city with which you can set up a reciprocal relationship and which can cater to your needs. Throughout the world such cities are being built right from Masdar in Abu Dhabi to Davao in Philippines. It is predicted that by 2050, about 75% of the world's population will live in cities. This will put a huge strain on the already stretched resources of the city such as its transport system and emergency networks. To handle the huge influx of people our urban planners need to come up with new and innovative ways to increase the efficiency of existing resources while at the same time reducing costs and improving the overall quality of life of its citizens.
It would be such a great thing if our cities could interact with us and give us live status updates about water, power, sanitation, parking and emergency services. The information they would provide us would be so instrumental in improving our lives. This can be made possible by IOT which with its network of sensors, wireless networks and web and mobile-based applications can turn the concept of smart cities into a reality. IOT will help cities track their assets and behaviors, improve on their processes and controls which will enable them to deliver better service to their citizens. The huge amount of data generated by IOT will help city planners make informed decisions while at the same time reducing costs and improving economies of scales. In addition to identifying trouble spots IOT will also help provide solutions for the maintenance of these assets. By seeing to it that scarce resource are allocated properly and operate in an effective manner IOT can help in the creation of an extremely efficient city.
A smart city signifies an urban region which is extremely advanced in terms of overall infrastructure and where information and communication technology is the principal driving force. A variety of technological platforms are involved which includes but is definitely not limited to only automated sensor networks and data centers. A smart city in order to be recognized as one should include at least certain of these key aspects such as smart governance, smart technology, smart energy smart healthcare, smart building, smart infrastructure, smart mobility and smart citizen.
Smart Parking – A lot of traffic jam results from people driving around and looking for a parking slot. Under a smart city setup, sensors placed in parking meters will detect free spaces and direct motorists to the nearest available free parking slot. This will not only save a lot of time but also reduce congestion on the roads.
Smart Water – Metering water can help citizens manage and control their own usage of water. In France, Orange has installed about 1.2 million water meters which is helping people manage their water usage through the provision of real time data. Furthermore, consumers can even check their water consumption by an online account.
Smart Trash – Sensors placed in dustbins notifies the central system about the amount of waste contained in the bin. The system then analyzes the data provided to it and forecasts when the bin will be full. Depending on it garbage trucks are sent to the location to empty the bins.
Smart Environment – Sensors placed on bus roofs will measure the air quality and note down the levels of gases such as carbon monoxide, carbon dioxide, and nitrogen dioxide in the air. The buses update this information in real time and residents through the use of a mobile app get an idea of the air quality.
Smart Lampposts – Sensors fitted into lampposts convert an ordinary lamppost into a wi-fi hub. The sensors can detect anything from Co2 emissions to rising noise levels. It would also have the capacity to turn off lights when no one is using the street saving up to 80% of the lighting bill.
Automated Traffic Signal – Traffic signals with sensors inform commuters of traffic jams and traffic accidents. This helps authorities respond faster in an emergency situation.
Self-monitoring in Patients – IOT will enable self-monitoring for patients where sensors detect an emergency situation and contact emergency care thus saving precious lives. Doctors too can remotely keep a tab on their patients informing them when a serious situation arises.
Smart Electricity Distribution – Smart grid systems allow customers to establish control over their electricity consumption leading to huge savings.
At present smart city projects are in a development stage and involve projects that are small scale in nature but with time they are going to improve and include larger scale projects. A time will come when the data infrastructure of our cities will matter as much as the real physical infrastructure and only then can we say that smart cities have truly arrived.
Other Smart city related articles:
Building a Smart & Safe City


Telcos painting Smart City Visions in Southeast Asia


Smart City vision Indonesia 2015 -2045; breakthrough in Automotive
Smart City" pilot projects to be rolled out in Thailand

[:]