Looking beyond the business and technology, it is important to realise that communities in the region are to benefit most from the increased adoption and implementation of IoT.
Internet of Things (IoT), Internet of Everything, Intelligence of Things, Intelligence of Everything – a rose by any other name would smell as sweet. We are in the age when humans and artificial intelligence converge to transform into an interconnected, thinking entity, facilitated by massive amount of data. From machine automation in manufacturing facilities to your home refrigerator texting you to replace your wilting spinach with fresh ones, IoT is something of the future that has dawned upon us.
Even in the emerging and developing region of ASEAN, IoT has come to bring glad tidings.
Over the years, enterprises and public sectors have adopted IoT to make business processes and operations more efficient, and public services more seamless. We have seen how a Vietnamese farm deploy a gateway to collect data from farm through a system of sensors, weather stations, and robots, so that farm operations can be managed via the cloud. We have seen the local government Jakarta leveraging IoT to manifest a smart city through a plethora of intelligent systems – smart surveillance, smart equipment trackers, and smart street lighting system, among others.
The growing intelligence in the different sectors across ASEAN reflect not only a promising economic region, but also a gradual improvement in the quality of life of communities here. However, despite robust technological development in many areas, most conversations are focused on identification of potential business benefits. Much less is known about the current and future impact of IoT on society – the interaction between communities with IoT systems and smart cities, and how the acceleration of IoT adoption can impact ASEAN societies.
It is therefore important for IoT solution providers to access ASEAN and introduce their solutions and products with a bigger end picture in mind. IoT solutions, as the names goes, need to solve prevalent and pervasive issues in a society. Apparently, problems are abundant. From urban blooding and traffic congestion to poor rural health systems, there is much for IoT to solve.
In our previous article, we wrote on how effective applications of IoT for flooding and other disaster prevention are anticipated. In a country like Vietnam, where flooding is a pervasive and longstanding issue, more substantial flood mitigation and flood monitoring projects are critical. With the implementation of a calculated and carefully crafted IoT flood monitoring project, the flooding issue in the country can be alleviated. Apart from saving billions of Vietnamese dongs, loss of lives can be prevented too.
IoT can also be a beacon of hope for the healthcare industry, especially in ASEAN where the majority live in rural areas. With inadequate healthcare facilities and structures, providing a sufficient level of healthcare to citizens can be a feat. While big data analytics, remote care, and flexible patient monitoring have been implemented in countries like the Philippines, there is still more that can and should be done on this front. From assisted living to connected health devices, IoT solution providers in the healthcare sector have much to work on in the region.
The point of it all is that there is likely to be more radical innovations in the future. The benefits should be used, ultimately, for society's gain. There needs to be more research on real applications for real scenarios for real societies, in order to inform policy and practice in ASEAN. Over the next couple of months, we will start looking at real problems that are plaguing communities in ASEAN that can be solved with IoT. This would help inform solution providers of not only the opportunities in the region, but to inform them of their corporate responsibility to use technology to alleviate social and environmental issues that can greatly affect the lives of people in the region.
If you have IoT solutions that you are keen in introducing in ASEAN to solve a particular social or environmental issue i.e traffic congestion, flooding, famine, healthcare, please email me at zaidani@industry-platform.com. You can find out more about our IoT programs in ASEAN here.
As we launch first ever IoT-focused conference in Vietnam, here are some of the conversation snippets we had with the local telcos on the current IoT development:
What is the current state of IoT development in the Vietnam? 
In Vietnam itself, IoT development is still at the initial stage: service providers are learning and importing solutions from abroad to apply in Vietnam.
"It's like a 4-5 year old child and has ample opportunities for interested stakeholders to join now. If you join later, the child will grown up and you can not catch him," said Alex Nguyen, Vice Director of Viettel IoT Center.
Which industries are leading the uptake of IoT locally?
From a bigger picture, public sector seems to be a huge focus for local telcos. Industries that have been allocated huge amount of budget from the government include vehicle tracking, smart electric grid, smart water and smart city.
"Wireless data fee is relatively cheap, and it gives opportunities for IoT applications such as connected car and taxi, railway or transportation services," said Alex.
VNPT is working on Smart City Plans for cities which, including Smart Lighting, Smart Grid, Smart Parking, Smart Home, Smart Office, etc.
According to Vũ Ngọc Quý from the market research and product development team in VNPT VinaPhone, logistic companies within Vietnam can largely benefit from tracking devices such as VNPT Tracking.
"Recently, Smart-home become well populated in Vietnam. We're seeing more companies with solutions like security, alarm system, camera, air monitoring, smart controllers, etc. Smart-home with plug and play function as well as preinstall flat brings a lot of potential to the property business," said Quý.
Alex added that Vietnam has a lot of agriculture areas, and smart farming is an important industry with currently change in the environment change.
Where do the most opportunities for CSPs lie in Vietnam?
According to Quý, the most opportunities for CSPs lie within the public and business sectors.
"In which, the customer does not pay directly to us. However, they pay for extra services of their other providers. For example, customer buy insurance for their car, within the insurance contract the customer received the package including the VNPT Tracking which they can know the location of their cars or the health check via M2M installed in their car (by VNPT VinaPhone) reported to them."
To Viettel, CSP is the central of all connections and they strongly encourage new connections to be developed in Vietnam. "We don't have enough capability to expand IoT every single industry, so we are planning to develop IoT platform to support IoT developers with connectivity and software development," said Alex.
Alex attended the 9th edition of Asia IoT Business Platform in Jakarta last month, and saw opportunities to develop new network with a cheaper price and lower energy for IoT such as SigFox and LoRa.
Advice for solution providers that are looking to venture into Vietnam?
Quý: It is the best to work together with operators like us since we have large customer based and also understand the market. The combined package of various services is easier to sell than single solution since customers want convenience.
Alex: Don't be late, join us now and work together to make your solutions happen here in Vietnam.
Co-hosted with local governments and telecommunication companies, Asia IoT Business Platform is the largest ASEAN gathering to educate public sectors and end users across verticals on adoption of IoT and M2M technologies. The 11th edition will be held in Hanoi, Vietnam on 29-30 November 2016.
Leave us a comment if you would like to be included in the latest updates of IoT in ASEAN.
Vietnam is becoming a manufacturing powerhouse. It is emerging as a low-cost hub for manufacturers who face increasing labour costs from neighbouring China and Thailand, with the likes of Intel and Siemens investing billions of dollars into factories around the country. Samsung recently announced its plan to increase direct investment in Vietnam to USD 20 billions in 2017.
Yet, Vietnam's manufacturing scene is not immune to the "rise of the robots". With global developments in automation to cut labour costs and reduce human errors, what do rising manufacturing hubs like Vietnam and Thailand stand to gain (or lose) from this movement? How then do manufacturers leverage on existing competitive advantages while continuing to innovate and stay ahead of the curve?
Cheap labour still a pull factor
Despite high entry barriers to foreign investors, Vietnam remains an attractive destination for manufacturers looking to cut cost. Wages in China rose at around 120% in the past few years, coupled with high-profile exposé of inhumane working conditions and lack of human rights protection for workers. Entering Vietnam is becoming easier with the country continuing to open up its economy by signing the Trans-Pacific-Partnership agreement and the EU-Vietnam Free Trade Agreement. Meanwhile, average manufacturing wage in Vietnam is expected to be around USD 3,500 per year in 2020, compared to China's USD 11,300.
Automation and the future of manufacturing
The International Labor Organisation recently reported that more than two-thirds of Southeast Asia's 9.2 million textile and footwear jobs, including 86 percent in Vietnam, are at risk due to automation. In response to this, Vietnam's manufacturing scene has been moving away from the traditional portfolio into more higher value-added products like chipsets and parts for mobile devices. Yet, this move is still threatened by manufacturers being pressured to return to their own country (i.e. #MadeInAmerica), aided by the rise of automation that increases labour productivity while reduces labour cost.
What about manufacturers?
At the moment, manufacturers in Vietnam can still make use of the cheaper labour costcompared to its neighbouring countries (average monthly wage in Vietnam was at USD 197 in 2013, compared to USD 391 in Thailand and USD 613 in China, according to the International Labour Organisation). Early adoption of IoT and automation will allow manufacturers to stay ahead of the curve as costs are bound to increase, while tackling other issues such as quality management, efficiency, increasing labour cost, and human rights issues concerning workers' work environment. Furthermore, government initiatives and legislation that accelerate the adoption of new technologies will allow the market to become even more attractive to foreign investors.
Moving forward
As Vietnam moves towards becoming an industrialised country by 2020, it needs to find a way to maintain its competitive advantage while catching up to technological innovations. IoT in manufacturing can provide valuable information for operators to maximise efficiency and reduce human errors, such as using sensors to monitor conditions of machines so companies can be alerted when maintenance is due – rather than having more costly routine checkups or unexpected breakdowns.
Meanwhile, the young and tech-savvy population needs to be educated with new technologies, and how to prepare to adapt to the fast-changing manufacturing work environment. In fact, as university graduates face increasing unemployment, some 32% of high school graduates in Vietnam qualified for university are applying to previous less-coveted technical tertiary institutions for better future prospects. Leveraging on this highly-educated labour pool, the government and technical institutions need to ensure that the graduates are equipped with future-ready skills, especially in up-and-coming technologies, so the workforce remains sustainable and competitive.
IoT in Industrial & Manufacturing will be discussed at the 11th edition of Asia IoT Business Platform, which will take place in Hanoi at the end of November. For more information, visit http://iotbusiness-platform.com/iot-vietnam or drop me an email at dinh@industry-platform.com.
Flooding is an issue that has been plaguing Vietnam for years, with the recent ones that inundated the provinces of Ha Tinh and Quang Binh in central Vietnam being severely devastating. Despite being a longstanding issue in the country with billions of Vietnamese dongs spent to ease flooding situations in the country's provinces and cities, the problem persists. Clearly, more substantial flood mitigation projects should be put in place.
In view of the severity of Vietnamese floods, government agencies and city councils are establishing measures to alleviate the issue. Ho Chi Minh City (HCMC) authorities recently set specific goals and decided to apply more serious measures in the action plan to reduce flooding in the 2016-2020 term. According to the HCMC Planning & Investment Department and the HCMC Operation Center against Flooding, the total capital to be mobilized in the next five years to tackle the issue is VND74.35 trillion USD 3 billion). Some projects that are being set out include the construction of waste water treatment plants and upgrading of water drainage system.
However, many past projects have not been able to fulfil their full potential, largely because the technology deployed have not been robust. This reflects the larger issue at hand where the IoT ecosystem in Vietnam—and in many other emerging markets—is fragmented.
Going back to the issue of flooding, effective applications of Internet of Things (IoT) for disaster prevention are greatly anticipated. In the context of flood disaster prevention, flash flood warning and flood impact analysis based on massive data collection are critical. Yet, it is also important to propose an IoT system that is based away from servers due to the probability of network overload and feedback delay. A disaster-tolerant access network is therefore important in such situations.
To achieve this and to effectively implement city-level IoT projects, there is a need for stronger cooperation and partnership between local and international IoT players. This flooding issue sheds light on the opportunities that international IoT solution providers can tap on in Vietnam.
In our recent visit to HCMC last week, we found that many local system integrators and IoT solution providers are realizing that IoT projects cannot exist in silo. This has led to greater interests in seeking partnerships with more experienced players in the IoT space to complement their solutions and technologies; be it in terms of platforms, hardware, or software. In a nutshell, to solve the issue of system fragmentation, integration is key. Viettel, a local telco, puts the IoT situation into perspective, "We don't have enough capability to expand IoT, so we are planning to develop IoT platforms to support IoT developers with connectivity and software development."
Case in point, effective IoT technologies and projects do not work in silo and partnership and collaboration between local and international IoT players are essential to ensure the success of IoT projects implementation in markets and to ensure a lasting effect for IoT in Vietnam.
If you would like to know more about the opportunities in Vietnam, visit Asia IoT Business Platform 2016 Hanoi, Vietnam.
If you would like to participate in Asia IoT Business Platform 2016 Hanoi, Vietnam as a sponsor or exhibitor, visit our sponsorship page. Alternatively, you can attend the conference as a delegate by registering here!
On my last trip to Ho Chi Minh City to speak to local vendors, I saw a (personally) surprising leap in the IoT space that I did not expect from the local companies. Most have either deployed, tested or looked into different IoT solutions, especially in the Agriculture, Smart Homes, and Banking sectors. Yet a topic that always comes up is the search for suitable IoT Platforms for their portfolio of products.
So what exactly is an IoT platform?
An IoT platform, simplistically, connects IoT devices with applications, which allows data to be transmitted and interpreted by the applications. With that being said, IoT platforms vary depending on design – some focus on the IoT/M2M connectivity between devices while others also include data analytics capabilities; some are open platforms while others are only meant for proprietary hardware.
There are more than 300 IoT platforms in the current market, and the number continues to grow. One platform can also exist in variance, depending on the company's business models with regards to the distribution and usage of the IoT platform. The IoT platform market is expected to grow 35% per annum and attain a size of $1.16B by 2020, and the potential is just as big in Vietnam.
Why the need for an IoT platform?
An IoT platform is necessary to let the user have a better overview of their devices, make sense of the data generated and allow IoT operations to be more scalable. Most (commercialised) IoT-related devices in Vietnam right now are separate efforts by different teams within the company that make use of device-to-device connectivity, but vendors (system integrators, telcos and local developers) are looking into platforms that can unify these existing and future IoT/M2M devices.
What are the concerns?
Security of IoT platforms remains the number one concern for vendors and end users alike. With the recent DDoS attacks on IoT devices that caused mayhem (including Internet outages), it is foreseeable that in 2020 with 25 billion connected devices, a successful attack will be detrimental to all stakeholders: loss of data privacy (does that still exist though?), disruption to business, and even security risks at various scales – internal, national, even international.
The potential in Vietnam
The interest in IoT technologies is booming in Vietnam this year, with the government, big tech firms, and startups raving on the potential of IoT as bringing Vietnam forward in its "digital revolution". Already famed for its software outsourcing business, the tech workforce in Vietnam has the capability to tap into IoT and grow their product portfolio. They are looking for international inspirations, existing use cases, and how they can be applied into their currently fragmented portfolio of products in the IoT ecosystem.
If you wish to connect with Vietnamese companies about your platform solutions, drop us a note and we will get back to you with more details.
We are excited to welcome the Department of Information and Communications from Ha Noi, Da Nang, Ho Chi Minh City, Hai Duong and Hai Phong to our upcoming Asia IoT Business Platform, taking place on the 29-30 November in Hanoi, Vietnam. As they will be sharing their experience and future direction with regards to the respective smart city projects at the panel, here is a quick update to catch you up on the latest happenings in the soon-to-be smart cities in Vietnam.
Đà Nẵng
As the first city in Vietnam to officially embark on the "smart city" project (before the term was cool), Danang collaborated with IBM in their "IBM Smarter Cities" programme to address social issues such as traffic jams and environmental pollution. Viettel recently signed a memorandum to help Danang further develop infrastructure for smart city solutions in areas such as: air control, water management, garbage collection and meteorology, energy, earthquake and tsunami warning, floods, erosion, sewage, lakes, dams and bridge management systems. Honeywell is another partner who has committed to Danang's vision of an environmentally green and sustainable smart city. Danang aims to be the first smart city of Vietnam by 2025.
Hồ Chí Minh City
The economic capital of Vietnam, HCMC, is on track to (also) become the first smart city of Vietnam. The city recently signed a deal with Altai Technologies and ETN Singapore to provide free WiFi for District 1 – the city's central business district. A smart city advisory board has been created, consisting of experts including Microsoft Vietnam, hoping to create a comprehensive strategy for the city to address issues such as flooding, traffic jam, education and healthcare.
Hà Nội
The actual capital of Vietnam, Hanoi planned to invest USD 3 billion (in 2012) to develop the city into an "intelligent" city, focusing on transportation, healthcare, education, environment and urban development. 73% of public schools have been equipped with Internet connection to assist online learning, while trials for Intelligent Transport System have been in place. With the Metro line expected to be operational by 2020 and continuous urban transformations taking place, Hanoi is expected to continue its strategy to become Vietnam's intelligent capital city.
Hải Dương
A small province 60 km to the west of Hanoi, Hai Duong is at the beginning stage of research for smart city solutions. Faced with similar problems as other cities such as traffic, environmental pollution, digitising government… Hai Duong's Department of Information and Communications is seeking consultancy and solutions from vendors and cities with more experience in the subject to formulate an applicable strategy for the city and its countryside.
Hải Phòng
Known for being a port city, Hai Phong is emerging as the new destination for foreign investment, attracting USD 2.66 billion in the first 8 months in 2016, 5 times higher than the same period last year. Key verticals of the city include mechanical manufacturing, shipbuilding, the support industry, seafood processing and the production of equipment, electronics, cement, steel, fertiliser and high-quality consumer goods. It has a long-term partnership with the International Cleantech Venture Finland, that helps the city with green energy, and the city continues to explore opportunities and case studies to come up with a more comprehensive smart city plan in the upcoming phase of development.
Get the opportunity to connect with officials from these cities and more in Hanoi at the end of November. Drop me a note at dinh@industry-platform.com for more details.
UPDATE: we are looking for moderator for our Smart Cities panel, which features panellists from the abovementioned cities. Let me know if you are interested to lead this exciting discussion.
We recently concluded our 11th edition of Asia IoT Business Platform two weeks ago in Hanoi, Vietnam. While it was also our last programme for 2016, it was our first programme in Vietnam to explore the country's IoT market. Over two days, we saw different IoT stakeholders ranging from government bodies, telecommunications companies, IoT solutions providers, and enterprises convening and engaging in vibrant and interesting discussions on all things IoT.
It was amazing to witness the excitement and enthusiasm of our participants toward the prospect of emerging sophisticated technologies that can potentially transform business processes, operations, and systems. Considering that Vietnam is still in the nascent stage of developing their IoT infrastructure and capabilities, the level of interest in the market is impeccable.
Having said that, there are some case studies and presentations that caught our attention; mainly because some enterprises and verticals are already deep into the IoT game! Here are our three interesting takeaways from our programme in Hanoi:
Cau Dat Farm and their IoT aspiration
Cau Dat Farm—initially a tea factory built by the French in 1927—is one of the first movers to leverage IoT to tackle their supply side. Cau Dat Farm's current IoT solutions deploy a gateway to collect data from farm through a system of sensors, weather stations and robots, so farm operations can be managed via the cloud. The farm is now looking to build a substantial database for agriculture to solve the questions of forecasting crops, diseases, and productivity. However, they do not have the capabilities to achieve that and they are looking for partners and solutions providers to take their IoT project to the next level.
The Smart Cities Race in Vietnam
One of the panels at our programme in Hanoi was dedicated to the discussion on Smart Cities. Through the panel, we realised that cities in Vietnam are making great progress in their respective Smart City initiatives. Da Nang, for instance, have already rolled out their e-Government platform which is able to connect everyone—from public servants and leaders to citizens—on a single application. The city is now looking to develop and catalyse the progress on their IT infrastructure, manpower, communications, and other applications. To achieve this, investments and partners are critical.
                                                                            Questions from the audience
Vinamilk's Mega (Smart) Factory
Vinamilk is the largest dairy company in Vietnam and it is also one of the enterprises in the country to have deployed IoT to streamline its manufacturing operations and improve efficiency. Vinamilk has a factory with the highest technology automation, connecting all processes within the factory via system from input to output. Its smart warehouse is operated by automatic transport and management system, complemented by an extensive Enterprise Resource Planning (ERP) system. This underscores the efficacy of certain enterprises in adopting and deploying IoT, which poses much opportunity for solutions providers to seize.
There were many other presentations and case studies shared in Hanoi which are interesting and valuable for IoT stakeholders. From the instances above and from the other case studies shared in Hanoi, we are confident that Vietnam will continue to grow and develop and provide many opportunities for solutions providers targeting enterprise adoption of IoT. While IoT stakeholders also believe that the potential of IoT in Vietnam is undoubtable, it is critical to have more supportive policies from the government. We hope that our programme in Vietnam managed to communicate the importance of seizing the IoT opportunities in an emerging market and that when we return to Vietnam next November, more developments are in place and IT companies will realise the value in these emerging markets.
If you're interested in exploring the ASEAN enterprise IoT market, we will be holding an exclusive programme in Singapore in February 2017. It will feature the most relevant IoT case studies and panel discussions across the different markets in the region. The programme is the launch event for our 2017 series in Myanmar, Malaysia, Thailand, Indonesia, Philippines, and Vietnam. Feel free to contact me at zaidani@industry-platform.com for more information.
You thought that Singapore is the only country that is capable of harnessing technology to create a sophisticated and smart city? In my previous article, we have seen some great initiatives in Malaysia (Cyberjaya) and Indonesia (Jakarta Smart City Lounge). ASEAN remains to be ambitious in realizing its smart cities. Here, we look at the smart city initiatives in Philippines, Thailand, and Vietnam.
Philippines
With the influx of Filipinos migrating into the cities due to the rapid changes in economic opportunities that many major cities in the Philippines offer, the obsolete infrastructure in these cities have been struggling to keep up with this growth in urban population, resulting in urban decay, severe pollution and overpopulation within the cities. For instance, 37% of over 12 million registered residents in Manila live in slums throughout the city.
A collaboration between Davao City, the biggest city in the Philippines, and IBM Philippines is the first smart city development that relies on technology to address issues of public safety. In 2013, Davao City implemented IBM's Intelligent Operations Centre (IOC) solution as an additional support for its existing Public Safety and Security Command Centre (PSSCC), utilizing IBM technology, such as video analytics software, multi-channel unified communication, and GPS location tracking. Today, the IOC allows various government agencies, including the police, fire, anti-terrorism task force, and the K9 urban search and rescue services, to monitor operations in the city in real time and respond more quickly and efficiently to emergencies.
As a country suffering from the damage of numerous natural disasters from typhoons to volcano eruptions, Philippines have also adopted Smart City technology to improve disaster management and minimize damages from such natural disasters. Project NOAH was launched in 2012 as the Philippines' key disaster risk reduction and management system, and has won an IDC award for the top smart city initiative in public safety at IDC's Smart City Asia Pacific awards (SCAPA). Information, such as real-time weather data and high-resolution flood, landslide, and storm surge hazard maps, are collected on online platforms to help the relevant bodies to identify the occurrence and severity of the disaster and respond more rapidly.
Thailand
With aims to transform Thailand into a digital economy and digital hub of ASEAN, the Thai Information and Communication Technology Ministry is looking to develop Phuket and Chiang Mai into smart cities as pilot projects due to their technology readiness, location and international ties. According to Thailand's Software Industry Development Agency (SIPA) which is also managing the Phuket project, the Phuket smart city pilot project will focus on digital infrastructure development, the construction of a data centre and the enhancement of the city's tourism industry through the use of sensors and analytics.
In addition to the two pilot projects, the ministry has identified the formulation of a solid digital economy master plan as their first task, which will consist of 5 main domain missions – hard infrastructure, soft infrastructure, service infrastructure, digital economy promotion, and a digital society. The second task will involve other ministries in developing and delivering pilot projects across areas like e-commerce, e-education, e-industry, and e-government. For instance, the ministry would work with the Commerce ministry to create an e-commerce platform to help businesses, especially small and medium sized enterprises (SMEs) and those in agriculture, to go online.
To address the aging population in Thailand, Saensuk Smart City project was recently launched in 2016 in the Saensuk Municipality in Thailand, where 15% of the residents are aging citizens and most of them live at home alone during the day with minimal supervision or in nursing facilities. Collaborating with technology partners Dell, Intel and the IoT City Innovation Center (ICIC), a small Bluetooth-enabled smart device is distributed to all elderly patients to monitor the health condition of the patients, with the data collected and analysed by intelligent Intel-based gateway systems to provide insights to the municipal nursing headquarters cloud system. Healthcare practitioners and family members are also notified in instances of emergency or unusual activity or when the panic button is activated, allowing for a more efficient use of the limited human resource while providing more efficient and swift responses during emergencies.
Vietnam
The Vietnamese government has been extremely supportive and encouraging with its numerous efforts to promote its municipalities towards becoming smart cities in recent years, in order to address various socioeconomic issues such as traffic congestion, environmental pollution, and energy conservation. This has led to a smart cities race in Vietnam with several smart cities projects and initiatives being developed simultaneously to become Vietnam's first smart cities.
Da Nang aims to be the first smart city of Vietnam by 2025, and has collaborated with IBM in their "IBM Smarter Cities" program to develop smart city infrastructure to address issues such as air control, water management, waste management, energy, and disaster warning.
As one of the latest cities to join on the bandwagon, Vietnam's commercial capital Ho Chi Minh have developed plans for a new smart city program with these main components: smart services such as education, healthcare and traffic; enhanced citizen participation in city life; and a common database plan. This is in addition to an earlier collaboration between ETN Singapore and the Ho Chi Minh City's People's Committee to provide free public WiFi for the city with Altai's Super WiFi Solution.
In line with the nation's vision to turn Phu Quoc into a Special Economic Zone (SEZ) in 2010, the local government has also been working closely with Vietnam Post and Telecommunications Group (VNPT) to strengthen the network infrastructure by building a data centre and smart services, with the high-speed 4G network already successfully trialed on the island. 
In Hanoi, the capital of Vietnam, an investment of USD 3 billion was planned for smart city developments in 2012 with a focus on transportation, healthcare, education, environment and urban development. Efforts to transform the city into a smart city have continued with public schools being equipped with Internet connection and trials for an Intelligent Transport System taking place.
Smart cities are not just a fancy word that governments and other stakeholders can be proud of. Smart cities mean much more to the people than just automatic public feedback and lesser road congestion. Smart cities make public services smarter for the benefit of the larger local population so that they can experience a better standard of living in the city. As these cities continue to experience an influx of migrants from the rural areas, more needs to be done to support not only the growing population, but the pressure placed on public infrastructure too. 
ASEAN Smart City Projects will be discussed in Singapore on 14 February 2017, with speakers from Land Authority Singapore, Da Nang Department of Infocomm, Iskandar Regional Development Authority, Metro Cebu Development & Coordinating Board. If you're interested to know more about the agenda, get in touch at zaidani@industry-platform.com.
Da Nang — The central city of Da Nang should develop as a unique smart city and a competitive global center of tourism and services, Prime Minister Nguyen Xuan Phuc said at a meeting to mark the 20th anniversary of Da Nang's autonomous status directly under the central government.
He applauded the achievements of the past 20 years in terms of international integration and reform, the attraction of a high quality labour force, and the city's development as a draw for business start-ups and as a driving force of economic growth in the central region.
"Da Nang will serve as magnet for foreign direct investment, information technology and skilled labour force. It should be a front-runner in business reform, education and business start-ups," he said, adding that the city should develop 45,000 enterprises by 2020.
The PM also said Da Nang, situated in central Vietnam, has to build links with other locales in the region and serve as a core of the central region's socio-economic development. He suggested the city focus on the quality of its business environment in order to be competitive with other urban centers in the world.
Phuc noted that 2017 will present the city of one million people with a great opportunity, as well as a challenge, when it hosts the Asia-Pacific Economic Cooperation (APEC) Summit later this year and other APEC events.
The city's party secretary, Nguyen Xuan Anh, said Da Nang had turned from a third-class urban locale into a first-class city under the central government between 1997 and 2017. He said the city earned total revenues of VND 54 trillion (US$2.4 billion), contributing VND19 trillion ($840 million) to the State budget in 2016.
"The city has seen a rapid development in tourism and services, from 61 hotels with more than 2,000 rooms in 1997 to 585 hotels with 21,000 rooms after 20 years," Anh said. "Da Nang is now four times larger than in 1997, with a total area of 21,300ha."
Anh, who is also chairman of the city's People's Council, said the city had been ranked on top of the Provincial Competitiveness Index (CPI) every year since 2010, and was a leader in administrative reform and information technology.
He said the city's downtown, which was in the past connected with its beach destinations on Son Tra peninsula by two downgraded bridges, is now accessible through nine modern, attractively designed bridges.
In 2012, it was selected for a Low-Carbon Model Town Project at the 44th APEC energy meeting in Washington DC. The city had been developing low-carbon model projects, including battery powered bicycles, technologies to curb greenhouse gas emissions and renewable energy sources, a metro system and Rapid Bus Transit (BRT).
The city had already cut 12,000 tonnes of carbon emissions during a pilot project between 2008-11.
The city hosted 5.6 million tourists, 1.65 million of them foreigners. — From Vietnam News. Read more here.
Da Nang will be sharing on their goal of becoming the first smart city in Vietnam at Asia IoT Business Platform Singapore, 14 February 2017. Early bird delegate rates are available until this Friday, 13 Jan.
On 7 July 2016, Hoa Lac IoT Lab – the first IoT lab in Vietnam – was officially launched at Hoa Lac Hi-Tech Park, a science city located in the outskirts of Hanoi. Attended by Deputy Minister of Science and Technology Pham Dai Duong, the lab aims to support technology startups focusing on IoT to build applications and solutions in Vietnam.
Situated inside the Hi-Tech Business Incubator, Hoa Lac IoT Lab includes exhibition and demo areas, research and development offices for the organisations, experts and IoT startups. Privately funded by Hoa Lac Hi-Tech Park, DTT Technology Group, Intel and Dell Vietnam, the lab will play an important role in providing the necessary resources for IoT products to be developed, tested and exhibited before being commercialised.
A conference titled "Science and Technology Development Cooperation Hoa Lac 2016" discussing the topic of IoT took place together with the opening ceremony of the lab. At the conference, Mr. Nguyen Lam Thanh, General Secretary of Vietnam Digital Communication Association, outlines the importance of the lab in supporting the startup community in the new and exciting IoT sector in Vietnam. Citing the examples of Malaysia and Korea, DTT Technology Group's director Nguyen The Trung highlighted the role of the government in creating an open ecosystem for small and medium enterprises to cooperate and develop Vietnam's IoT developments, making use of the market's young population and cheap labour cost.
Besides its founding members, Hoa Lac IoT Lab will be expanding its membership to enterprises, organisations and individuals who are interested in having their products in the Lab. It will also support start-ups by providing its membership, services and resources free-of-charge.
Vietnam Digital Communication Association will be co-organising the 11th edition of Asia IoT Business Platform in Hanoi, Vietnam, endorsed by the Ministry of Information and Communication and Ministry of Science and Technology, at the end of November 2016. For more information, drop me an email at dinh@industry-platform.com
By: Dinh
Last Friday, a group of hackers in China allegedly took down the announcement systems in major airports in Vietnam, including Hanoi's Noi Bai International Airport and Ho Chi Minh's Tan Son Nhat Airport – the two biggest in the country. The screens and speakers at the airports then started broadcasting messages insulting Vietnam and the Philippines, claiming China's sovereignty over the so-called "nine-dash line".
The incident sparked outrage among Vietnamese, whose relationship with China is already tense due to the South China/East Vietnam Sea conflicts. It also highlights the importance of enhancing cybersecurity in the increasingly connected world.
Airports are one of the most vulnerable sites for cyber attacks due to its visibility and the large impact of any disruption to the system. The recent hacks forced operators in Noi Bai and Tan Son Nhat to switch off their networks and check in passengers manually, creating long lines and flight delays. Vietnam Airlines' website was also hacked, resulting in the personal information of more than 400,000 Vietnam Airlines' frequent flyers being leaked online.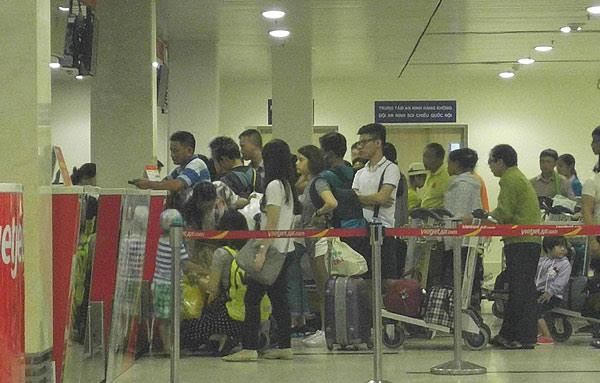 Vietnam's state of cybersecurity is low – it is the third most-attacked country in the world, according to Kaspersky's cyberthreat real-time map (updated at the time of post). Many computer and Internet users, even in government organisations, use little to no protection service, and unlicensed softwares that are more vulnerable. 85 percent of computers have virus infected from USB drives, while 30 percent of banking websites have vulnerabilities – two-third of which are high-level vulnerabilities. In the wake of the hacking incidents, at least 2 commercial banks have temporarily disabled their online banking services, with the rest closely monitoring the system for any unusual transactions.
The inter-connectivity of devices and reliance over technologies for everyday operations expose their users to various threats. A recent study shows that 70 percent of current IoT devices contain serious vulnerabilities. Even your wireless keyboards may not only be sending data to your computer, but also to a hacker tapping on the unencrypted data transmission.

As the ICT sector continues to develop in Vietnam, with 'smart' projects sprouting up in various areas and verticals like smart cities, traffic management and smart agriculture, this cyber attack serves as a reminder to prioritise security at the top of any implementation of connected technology – over convenience and novelty – so the damages of cyber attacks can be reduced and/or mitigated.
How do you keep your organisation secured against potential cyber threats? Leave your suggestions/experience down in the comments section below.
Cybersecurity will be discussed at the upcoming 11th edition of Asia IoT Business Platform, taking place in Hanoi, Vietnam at the end of November 2016. For more information, drop me an email at dinh@industry-platform.com.
By: Dinh
One of the fastest-growing economies in the world, Vietnam has been rapidly growing its IT sector to pursue the aim of becoming an industrial country by 2020. The recent Vietnam ICT Comm 2016 in Hanoi witnessed strong interest particularly in the IoT sector, with thousands of people trying out IoT products and attending a presentation about IoT by Mr. Hoang Viet Tien. The potential for IoT in Vietnam – according to Mr. Tien, with a nationwide average of 1.4 mobile phone per person. At the same event, VNPT debuted its IoT complete solution package called Smart Connected Platform, that has already been implemented in various projects in different verticals such as agriculture, transportation, healthcare and manufacturing, helping to increase operational and monitoring efficiency.
While receiving massive attention now with tech giants like VNPT, FPT and CMC identifying IoT as the "leading trend" of tech, IoT is, in fact, not new to the Vietnamese tech scene. Smart City projects started out as early as 2008, and since then has appeared in at least 5 more cities. The healthcare industry identified Big Data and Analytics as its greatest concern in improving competitiveness, according to a survey done by IDC in 2015. The Government pledged to invest USD 111.6m from the State Budget in the ICT sector by 2020, incentivising local and international firms to invest in the country. In 2013, the Ministry of Science and Technology set up Silicon Valley Startup Ecosystem to stimulate growth and encourage Vietnamese to venture into tech startups.
"I believe [2016] is the right time for Vietnam to think of developing the Internet of Things as a solution to foster socio-economic development thereby, it can help increase the national competitive advantage." said Nguyen Minh Hong, Deputy Minister of Information and Communication
Despite the benefits of IoT, much of its presence in Vietnam at the moment remains fragmented, lacking standardisation, and having security concerns. IoT projects are being deployed without fully understanding the effects and implications of the technologies, resulting in uncomprehensive technological changes and incompatibility between new and legacy devices, and unsustainable deployments that do not reap the long-tern benefits of IoT. Most of the IoT technologies in Vietnam at the moment are imported, hence understanding of the system and troubleshooting can be costly and ineffective, as the products may not be tailored to fit the local market's requirements. Vietnam's IT talent pool, while young and large, still lacks the level of expertise seen in other countries such as USA and India. While Vietnam is rising as a manufacturing powerhouse due to its cheap and abundant labour force, IoT harnesses the power of machine-to-machine automation that in the long run will nullify the competitive advantage that Vietnam's market currently holds.
Therefore, it is important for all organisations, enterprises and vendors across the IoT ecosystem in Vietnam to cooperate, discuss and educate relevant policy makers, end users and interested individuals about moving towards a standardised, localised ecosystem that generates the most amount of benefits for everyone involved. Government officials need to be aware of the implications of IoT technologies – pros and cons – and establish a strategic roadmap for IoT development in the country that compliments the national ICT roadmap. Technical and higher IT education continue to be the key to sustaining the country's workforce's advantages over its neighbours, so that technologies can be transferred completely and customised to fit specific needs and requirements.
Asia IoT Business Platform Hanoi 2016 will be working with the Ministry of Information and Communication, Ministry of Science and Technology, Vietnam Digital Communication Association and solution providers across the IoT ecosystem to discuss and develop the IoT market in Vietnam. For more information and the full report on IoT in Vietnam, drop me an email at dinh@industry-platform.com 
It's no surprise that Singapore is often in the limelight with regards to Smart Cities development in the Southeast Asia: with 100% urban population, strong ICT infrastructure and the highest smartphone penetration in the world, the government has successfully launched more than a dozen smart city projects as part of its Smart Nation Program.
However, if we look past trying to define smart cities and instead focus on measuring the desired outcome, smart city endeavours in ASEAN nations like Indonesia, Malaysia, Vietnam, Thailand and Philippines could potentially bring about a larger positive impact to the local community.
Smart City Solutions for the Developing Economy
For many of these countries, infrastructure is lacking. Smart City technology can help better utilize the existing resources (schools, hospitals, roads, public transportation) and extend its reach to the rural areas.
Digitalization of government services can also help to provide greater transparency and accountability and reduce the opportunities for graft and corruption. Smart utility solutions can help better manage energy use. IoT can even be integrated into natural disaster and risk management solutions for countries like Philippines.
In addition, with more than half of Southeast Asia's 600 million people under 30, the potential for rapid uptake of smart city technologies
Smart Cities in Indonesia
Indonesia has been slow in implementing Smart City initiatives over the last decade due to lack of collaboration between the city government and the federal government.
However with the success of Smart City projects that are funded by the local/ regional governments, the pace has picked up dramatically.
Pak Setiaji, Head of Jakarta Smart City, spoke to the media at the Asia IOT Business Platform Media Day (June 16, 2016) about their plans to improve the lives of its citizens.
In addition to using Qlue as a platform to resolve public complaints, they are also using a monitoring system for over 6000 CCTVs to improve traffic and public safety in advance to welcome the 2018 Asian Games in Jakarta
The Jakarta One Card was also launched earlier in June and it aims to combine the functions of an electronic ID card (e-KTP), a payment system for public transportation, shopping and electronic road pricing (ERP) tolls, and a Social Security Management Agency (BPJS) health insurance card. It is targeted that by 2019, all citizens in Jakarta will have the Jakarta One Card.
A Smart Street Lighting system is also in the works to replace 90,000 lamps this year and reduce the high electricity consumption. These lights can be controlled remotely and can provide notification when it should be replaced.
The Indonesian newspaper, Kompas, recognized 15 Smart Cities in Aug 2015 based on criteria such as smart economy, smart society and smart environment. Currently there are 24 (and counting) smart city implementations across the nation from Bandung to Manado.
With Indonesian mayors making technology a priority for planning the best use of limited resources, and with large investments from telcos to bridge the funding gap from the federal government, we foresee big strides forward for Indonesia Smart Cities.
Smart Cities in Vietnam
As mentioned in a recent article by Dinh, our assistant project director for the 11th Asia IoT Business Platform in Hanoi, IoT and smart city solutions hold great promises in solving everyday life issues and improving the citizens' quality of life for a less economically developed country like Vietnam.
Phu Quoc, an island off of Kien Giang Province, is one of the cities aiming to become the first smart city of the country, in line with the nation's vision to turn Phu Quoc into a Special Economic Zone (SEZ) in 2020. Vietnam Post and Telecommunications Group (VNPT) is working closely with the local government to materialise the VNPT Smart City model in Phu Quoc by building network infrastructure, data centre, and smart services. High-speed 4G network has already been trialed successfully on the island.
Mr. Mai Van Huynh, Vice President of Kien Giang People's Committee, believes that the smart city project is necessary for Phu Quoc to become a well-connected, sustainable and important SEZ for the country and the region. However, "to have a smart city, there must be smart citizens, smart government officials", Mr. Huynh.
This is just one of many efforts by the Vietnamese government in recent years to promote its municipalities towards becoming smart cities, in order to tackle various socioeconomic issues such as traffic jams, environmental pollution, and energy conservation.
What we can learn from Singapore
While many ASEAN nations may not have the financial willpower of the Singapore government to spend S$19bn for Smart Nation R&D initiatives, there are three takeaways that could accelerate smart city developments in Southeast Asia.
1) Having a centralised Smart City program. Data and technical know-how are shared among the cities to identify more actionable insights.
2) Commitment to education. From nurturing a highly educated workforce to providing skills upgrade and training for older workers, education initiatives need to be in place to manage the changing demands of the workforce.
3) Delayed Gratification. Often smart city initiatives takes time to bear fruit and smart city stakeholders need to take a long term view when deciding investments.
To take part in the discussions for ASEAN Smart City developments, do share with me your story at yueyeng@industry-platform.com
'Smart' is the new black, and it is no different in Vietnam.
ETN Singapore just announced its collaboration with the Ho Chi Minh City's People's Committee to provide free public WiFi for the city with Altai's Super WiFi Solution. The project aims to blanket HCMC's District 1 with free WiFi in a few weeks' time. HCMC hopes that this will boost tourism, local economy, and bring the city one step closer to becoming a "smart city".
This is just one of many efforts by the Vietnamese government in recent years to promote its municipalities towards becoming smart cities, in order to tackle various socioeconomic issues such as traffic jams, environmental pollution, and energy conservation.
Da Nang is the first city embarking on such projects, which started their smart city projects as early as 2008. IBM sponsored the city US$400,000 in 2011 to build IT architecture and infrastructure in three main areas: traffic safety, food safety, and water resources management. The city collaborated with the Korea National Information Society Agency to develop an e-Government platform to help reduce bureaucracy and improve public service efficiency. Another project,FPT City Da Nang, was set up in 2011 to build a model smart city that is highly connected and and sustainable. It promises high quality of life, affordable prices, and investment opportunities especially in the IT industry.
Phu Quoc, an island off of Kien Giang Province, is also aiming to become the first smart city of the country, in line with the nation's vision to turn Phu Quoc into a Special Economic Zone (SEZ) in 2020. Vietnam Post and Telecommunications Group (VNPT) is working closely with the local government to materialise the VNPT Smart City model in Phu Quoc by building network infrastructure, data centre, and smart services. High-speed 4G network has already been trialed successfully on the island.
VNPT is not the only telco in Vietnam investing in IoT and M2M. Viettel is bringing IoT to households by integrating Smart Home technologies to its existing fibre Internet and set-top box for TV. Viettel, VinaPhone and Mobifone have been conducting 4G/LTE trials in different cities around the country for the past year, aiming for the service to launch within 2016.
"To have a smart city, there must be smart citizens, smart government officials."
Government officials are optimistic but refrain from being overly ambitious. Mr. Mai Van Huynh, Vice President of Kien Giang People's Committee, believes that the smart city project is necessary for Phu Quoc to become a well-connected, sustainable and important SEZ for the country and the region. However, "to have a smart city, there must be smart citizens, smart government officials", Mr. Huynh.
For a less economically developed country like Vietnam, IoT and smart city solutions hold great promises in solving everyday life issues and improving the citizens' quality of life. However, it is also important for the government to plan carefully and realistically, prioritise the people's needs, and not become deluded by the Utopian prospects of the smart cities race.
IoT and Smart Cities will be discussed during the 11th edition of Asia IoT Business Platform, which will take place in Hanoi this November. For more information, drop me an email at dinh@industry-platform.com.